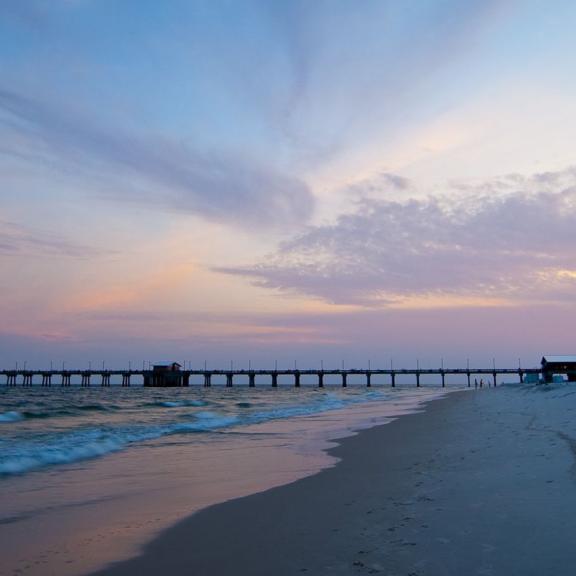 A Morning Spent Fishing at Gulf State Park Pier
How extra care by an extraordinary local made for a memorable experience for our entire family, especially Charlie, our autistic son.
July 27, 2020
Many of us have our fishing stories. I caught one this big, we didn't get one bite, it nearly pulled me in, there was no way I was going to touch that slimy thing, I've never been so proud…..The list goes on and on. 
Ted Safarian, an instructor at the Gulf State Park's Angler Academy, has heard all these in his lifetime and many more doozies from the Gulf State Park Pier. His passion is showing folks how to reel the fish in from the beautiful coastline at Gulf State Park and to teach how important this natural wonder is. He will tell you he is not an expert when it comes to teaching and educating, but to us, he's much more than an instructor.
In our session with Ted, we heard about 30 minutes of his tutorial on different lines, poles, hooks, bait, history, regulations, rules…whoa! We just came to fish, right? That would be a correct assumption, but Ted makes all these topics interesting. You also see how passionate he is about the salt life and how much he wants you to enjoy it, too. Especially when you're at the Gulf State Park.
Ted observes everything while he's instructing, and he doesn't stop once the lines are in the water. He wants everyone to have a great time and makes sure he can get around to everyone who has signed up to take Angler Academy. Our son, Charlie, has autism and is very talented with many things. Some may not even know that he has autism unless he tells you or you hang out with him long enough. One thing Charlie struggles with is fine motor skills. If you've ever fished, you know this is one of the key aspects to be honed in when fishing.
Without asking for more help or telling Ted about my son, this amazing fisherman was already giving Charlie the attention he needed to be able to enjoy the experience. Ted was just fine with a little more instruction when it came to the cast and holding Charlie's fingers, wrist and hands in the right place and sending the hook into the air together.
Ted took a few more moments to help with bait and more reminders on why it was used in the way he secured it. These can be challenging for anyone, and Ted takes care of it while making sure to educate at the same time.
My wife and all three kids eventually caught a fish and Ted was genuinely excited each time one made it to our hands. I can't tell you how grateful we were to see the patience and care that Ted gave to everyone there. His natural ability to see all abilities is something that you don't get with everyday life when you're on a vacation. These are the times that make a trip even more special. The locals in Gulf Shores and Orange Beach have many talents and being true ambassadors to their hometown is by far the greatest of them all. Even if you don't plan on fishing, we encourage you to stop by the Gulf State Park Pier for the view, the scenery, natural wonders, sunshine, and a chance to spend some time with our friend, Ted. You will truly be meeting one of the greatest stars of the area.