What I Love About the Gulf State Park Pier
Gulf Shores & Orange Beach
July 29, 2020
The Gulf State Park Pier is one of those places I stumbled upon during my drive along the beach highway on my first visit to the Alabama Gulf Coast. During that trip, I took a stroll on the Gulf Shores pier and observed fishermen skillfully casting their lines and reeling in their catch. My home state is Iowa, and I quickly realized these fishermen fished differently than folks in the north.
On a return visit, it appeared the same bird I had photographed on my first visit, was perched on "his" post on the pier. I have developed a love of birding and the Gulf State Park Pier offers fantastic birding opportunities, as well as fishing Alabama.
The local fisherman are some of the most helpful people I've encountered in Gulf Shores and Orange Beach. On one of my visits, I opted to purchase an Alabama fishing license and try my luck at catching a fish or two. It took me a few minutes to find my spot on the pier and once I did, a local angler lent a hand to this novice fisherwoman from the north.
I had purchased shrimp as bait for fish, which is different from fishing in Iowa. When we fish in the north, we use worms and we hope to catch a walleye for supper. I went to bait my hook and I quickly learned that it's not ok to put the whole shrimp on the hook. The local fisherman informed me he would show me how to do it, and he did. In the long run, he saved me a lot of money, by not using a whole shrimp on each hook. I look forward to a return visit, as I still need to catch a fish!
When visiting the Gulf State Park pier in Gulf Shores, be sure you bring your camera and binoculars. The photo opportunities are outstanding, as well as the fishing opportunities. The birds swoop in from all different angles and offer a new experience in the world of birding. After all, it isn't every day I get to see birds grab a fish or two out of the water. I also enjoy finding a spot on a bench to sit back and listen to the waves and watch seasoned fisherman at work, as well as the kids who cast their lines better than this travel writer!
While you are on the pier, be sure you pay attention to the rules and regulations upon entering. If you plan to cast a line, you'll need a fishing license. This is made easy in the bait and tackle shop. You can purchase a license directly onsite. If you don't want to pack your own fishing poles for your Gulf Shores and Orange Beach vacation, you can also rent them onsite at the bait shop.
Enjoy your visit to the Gulf State Park Pier, as it's truly an experience to remember when visiting the beautiful shoreline of Alabama.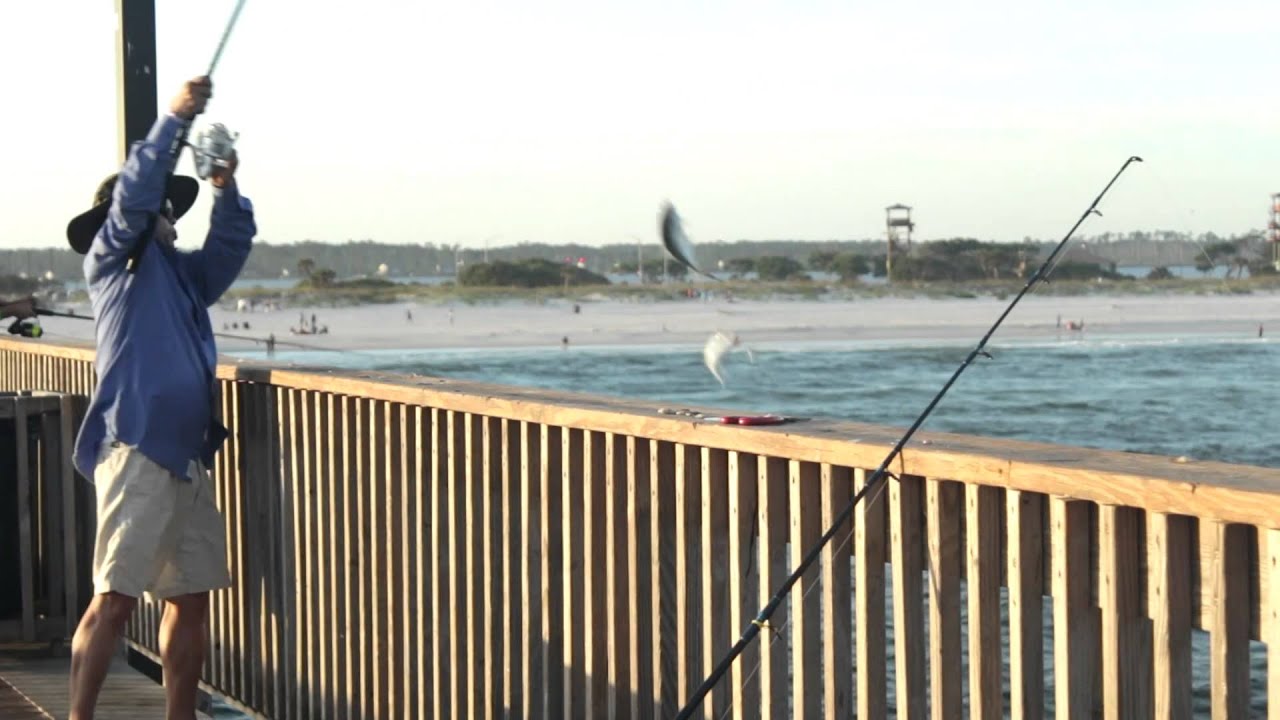 Fishing at the Gulf State Park Pier
Cast your line for great fishing fun at the Gulf State Park Pier.
The pier is open 24-hours a day and there is always something going on. Watch as seasoned fishermen reel in their catch. Or give it a try yourself with 2448 feet of fishing space. Enjoy the amazing views from the pier and get to know the resident pelicans who are all too eager to share the day's catch.