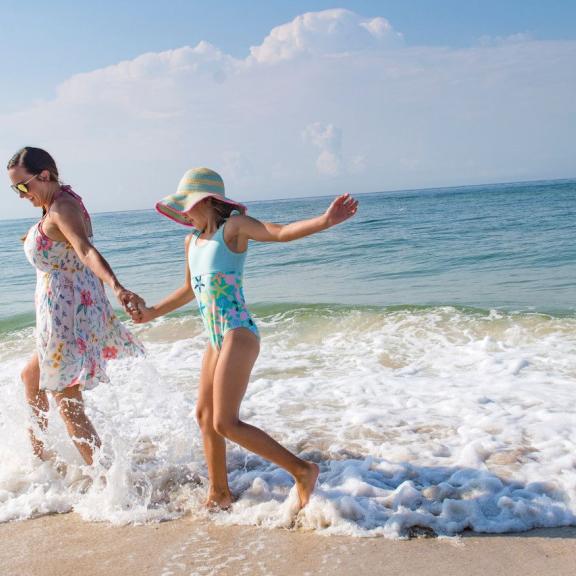 Mother/Daughter Weekend in Gulf Shores and Orange Beach
Mother and daughter weekend getaways should be filled with love, laughs, and great memories.
It's even better when the trip takes you to the beach, and Gulf Shores and Orange Beach are the perfect settings to reconnect with Mom. 
There is so much to experience on the Alabama Gulf Coast. With a myriad of places on and off the beach to stay, eat and play, time in Gulf Shores and Orange Beach is well spent on a mother/daughter getaway. I'm dishing on a few of our favorite stops during my own getaway with Mom. 
Five Reasons to Book a Mother/Daughter Trip to Alabama's Beaches
Dining with Idyllic Sunset Views
Dinner in Gulf Shores and Orange Beach is always an experience, simply because there are so many local restaurants you cannot afford to miss. GT's on the Bay is one of our favorite spots for beach eats because it's one of the best places to watch the incredible Gulf Coast sunsets.
We are seafood lovers, so we love to sample everything from shrimp to fresh-off-the-boat fish. But, regardless of if you love a great steak or perfectly fried oysters, there are plenty of restaurants to choose from on your mother/daughter trip.
Head Back in Time Before Heading Home
If you are looking for a breakfast that will take you back in time, head over to Sunliner Diner and visit some "cool cats" while you choose your favorite milkshake. Yes, milkshakes for breakfast! You'll find classics to enjoy like eggs over easy while you tap your toe to a little old-time rock-n-roll. 
While these are our favorite activities and restaurants, there's still much more to see and do. Plan a mother/daughter visit for yourself and create lifelong memories you'll always cherish.