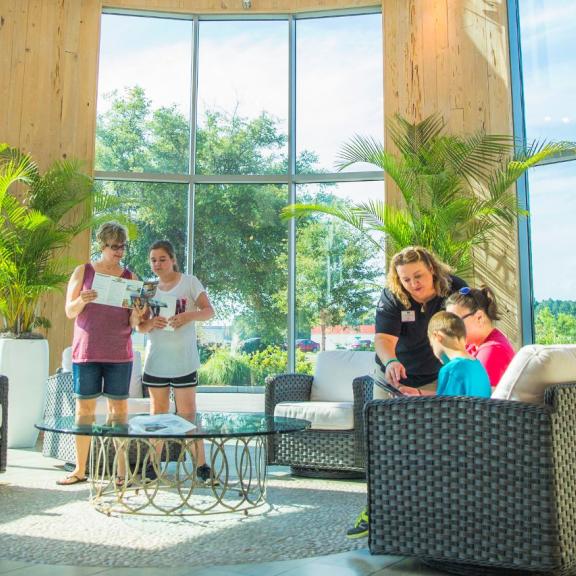 Welcome Centers
Gulf Shores & Orange Beach
April 11, 2023
Where is the nearest public beach access?"
"Who serves fried shrimp AND fried oysters?"
"What things can you do on a rainy day in Gulf Shores?"
At our Gulf Shores and Orange Beach Welcome Centers, we have answers to all these questions and more. Whether you're a new or longtime visitor of Alabama's beaches, the welcome centers are great places to go to find out what's happening in the destination. Our knowledgeable, friendly, and local vacation specialists are here daily to answer your questions and to help your vacation go as smoothly as possible.
When you open the doors of either welcome center, you'll be greeted by large racks displaying a variety of brochures, rack cards, and other collateral. With so much to do, see, and eat in the area, deciding what to add to your beach itinerary can be hard. Here, you'll discover vacation inspiration for attractions, restaurants, activities, and events.
Below are some of the free informational pieces you can grab at the welcome centers:
Maps
While most of us get directions from our smartphones, sometimes it's fun to go old school during your beach vacation. We have a large map of our beaches and surrounding areas to help guide you while exploring the area.
Newspaper
Check all the latest news and events happening in the area with the Mullet Wrapper, the Island's locally owned paper. You can pick up a free copy at either of our Welcome Centers.
Tide Calendar
Before you head out to the beach, we encourage you to check the weather and water conditions and familiarize yourself with the beach flag system. We provide tide calendars that offer tide times and charts for our beaches.
Be sure to stop by one of our Welcome Centers during your trip to Gulf Shores and Orange Beach for vacation ideas!