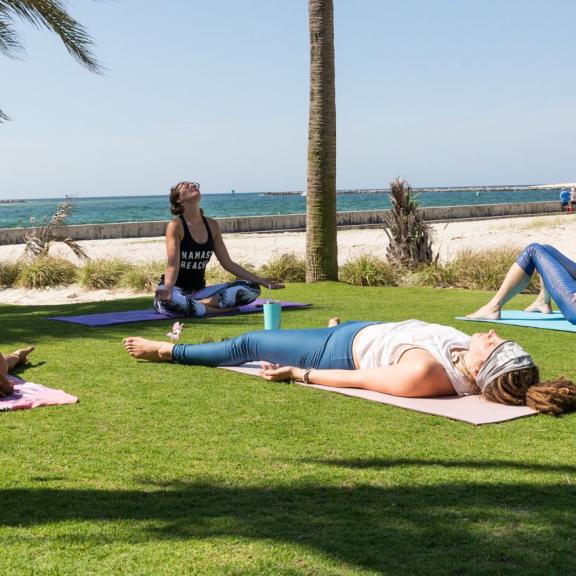 Waves, Wellness, and Wine
Plan a Getaway to Alabama's Beaches
Leave your worries at home and escape to Alabama's beaches with your best gal pals for a relaxing respite focused on mindfulness, health and overall wellbeing.
August 16, 2022
Whether you're a busy working bee or someone who just needs some TLC, finding time to rest and reset is rare. But, lucky for you, we have just the medicine here in Gulf Shores and Orange Beach. Relax and reset with these four activities. 
2. Bend (Don't Break) on the Beach
A wellness-focused vacation on the Gulf Coast would not be complete without a yoga class on our sugar-white sand beaches. During the spring and summer, Glow Yoga offers outdoor classes at various locations. They also offer private yoga sessions where they'll come to your accommodations, set up mats and lead you through a relaxing yet powerful flow. If one class isn't enough, you can purchase a traveling yogi package at their studio. 
If you want to make the workout more of a social event, book a group exercise class with Moxie Lifestyle Fitness Studio at The Wharf. From spin and TRX to barre and yoga, they can personalize a workout routine for your group. Not only that, mimosas, fresh-pressed juices and snacks can be added as well. 
4. Mindful Meals Make Full Hearts
​Nothing feeds our souls more than sitting down for a delicious meal with the people who mean the most to us. Whether your group wants smoothie bowls overflowing with fruit, charcuterie and vino, or a full-course meal filled with fresh Gulf seafood and local produce, you all can fill your hearts as you fill your bellies with wholesome, nourishing delights at any of the incredible restaurants in Gulf Shores and Orange Beach.
Before you hit speed dial and call your friends to plan your trip, find the ideal spa and place to stay for a last-minute hook to get your gals on board.
We look forward to watching the waves, exploring wellness, and sipping coastal cocktails with you on your next relaxing getaway to Gulf Shores and Orange Beach.