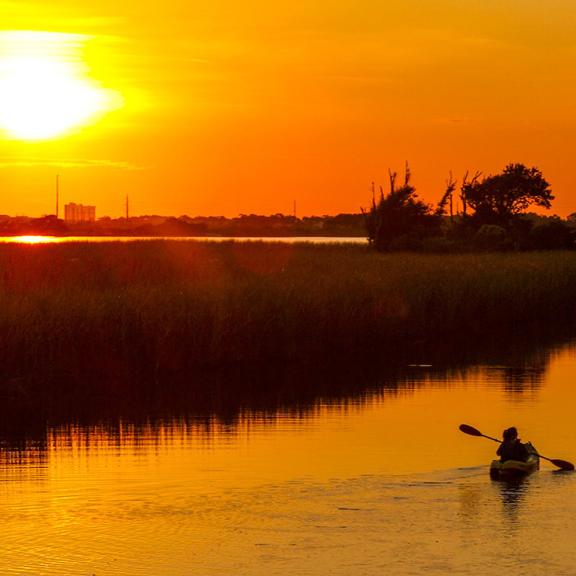 Six Ultra-Zen Ways to Enjoy the Beach
Unplug from the world and give yourself a moment to forget the stresses of everyday life by finding your Zen in Gulf Shores and Orange Beach.
April 24, 2020
Let the peaceful waves set the tempo for a tranquil journey of self-discovery. Slow down, take a deep breath and discover these six ways to get ultra-Zen on Alabama's white-sand beaches.
Enjoy Yoga on the Beach
Greet the day by participating in a sunrise yoga session on the beach. Feel your body and mind grow stronger all in the peaceful presence of the calming waters of Gulf Shores and Orange Beach.  Some yoga studios offer a variety of classes on the beach, at local breweries or even on paddleboards.
Explore the Quieter Areas of the Beach by Kayak
Connect with nature by enjoying the lesser-known parts of Gulf Shores and Orange Beach by kayak. Paddle through serene back bays, bask in the lush landscape and discover the wildlife that calls this area home. Bon Secour National Wildlife Preserve and Lake Shelby are the perfect spots to start your adventure.
Take a Solo Trek Among Nature at Gulf State Park
Can't decide whether to hike along the beach or head inland to take in the lakes and marshes? Enjoy the best of both worlds by trekking through Gulf State Park on the Hugh S. Branyon Backcountry Trails. You'll find more than 27 miles of paved trails meandering through six different ecosystems.  Grab a map at a trailhead and even download a Geocache app.
Nourish your Body with a Healthy Picnic
Throughout Gulf Shores and Orange Beach, there are many restaurants waiting to pack you the perfect picnic.  With cafes and eateries offering custom to-go options it is easy to order ahead and have your healthy meal ready to go. Whether it is a private picnic on the beach or in the peaceful shadows of the woodland preserves, nourish your body and soul by indulging in a mouthwatering picnic.
Witness the Sunset in the Quiet of Bon Secour National Wildlife Preserve
Sunsets are one of the most peaceful ways to experience Alabama's beaches. While many visitors flock to the beaches to witness the sun dipping into the sea, try experiencing the sunset at Bon Secour National Wildlife Preserve. With less people, you can easily take in the stunning view in a secluded setting.
Indulge in A Spa Day
Take a moment to pamper yourself by relaxing with a therapeutic massage, hot stone facial or mani/pedi combo.  Self-care is important as it replenishes your spirit and rejuvenates your soul. This is the perfect way to begin or end any trip to Gulf Shores and Orange Beach.