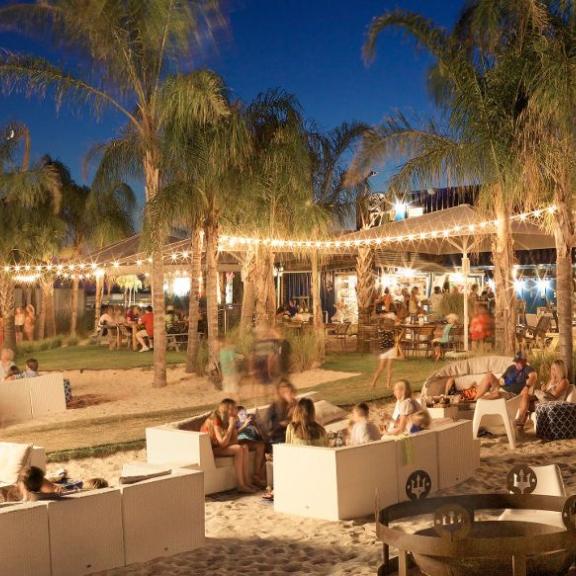 How to Spend Those Spring Nights on Alabama's Beaches
If you're planning a spring vacation to our sandy shores, you probably have your days figured out.
February 15, 2021
Balmy weather and spacious beaches make spring a perfect time to lounge on the beach, take a secluded nature walk, schedule a last-minute fishing charter and more. But what about when the spring sun goes down? What will you do then?
Luckily, you still have plenty of options! Spring nights on Alabama's beaches can be built to suit any style, from friendly chats in front of a cheerful fire to lively local music shows. To help you plan the perfect vacation from sunup to well past sundown, here are some fun ways to spend those spring nights in Gulf Shores and Orange Beach. 
Enjoying Live and Local Music
When you come to the Alabama Gulf Coast, it's not just the rolling waves that will serenade you. Our local music scene is as lively and inspiring as our coastal scenery and makes a perfect excuse to hit the town after the sun sets. Check out our live music calendar to find all the happenin' spring shows or head to one of these local mainstays where regional and national bands play nearly every night of the year!
The Flora-Bama is a must-visit attraction, and spring is a perfect time to visit. With live music 365 nights per year and some of the best cocktails on the coast, it's a great way to spring into a night of toe-tapping excitement.
If the whole family is visiting, head to The Hangout. While the adults enjoy live music and delicious coastal cocktails in front of the main stage, the kids will stay busy playing in the courtyard's ton-of-fun sandpile, foam pit, games, and more.
LuLu's is another great venue for a family night out. They offer nightly live music and great Happy Hour specials for the adults with plenty to do for the kids, from a three-story climbing rope adventure to a fully stocked arcade.
Wind Down at The Wharf
If you want to park and play, The Wharf combines everything you need for a fun spring night out in one place. Enjoy a delicious dinner, then catch an after-meal movie or a round of fun night mini-golf. When the sun sets, head to Main Street for the SPECTRA Laser Light Experience, a mesmerizing light show combining choreographed lasers and music. Finish off the night with a turn on the Ferris Wheel, an even better experience thanks to spring's stunningly clear skies and vibrant stars.