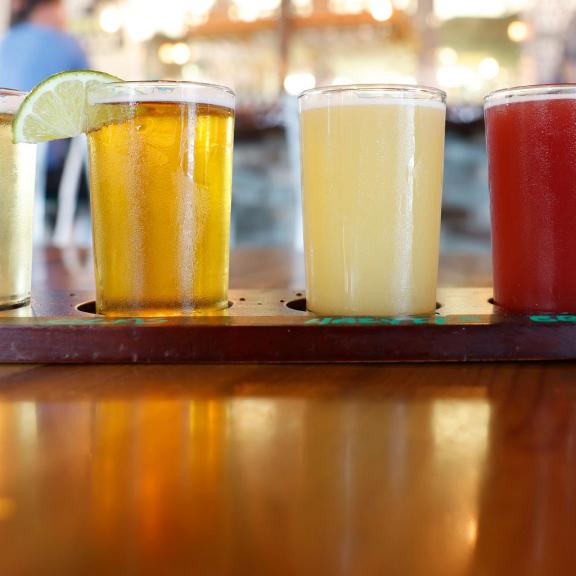 10 Fun Beach Date Ideas
In Gulf Shores & Orange Beach
January 10, 2023
Tired of dinner and movie date nights? You can ditch the usual date ideas on Alabama's beaches and try something new and exciting. Our area is home to plenty of fabulous attractions and activities that will take your next date up a notch. Whether you're an adventure-loving couple or prefer to keep things low-key, we've got a list of suggestions that'll make your heart flutter with excitement.
2. Visit the Hot Shop
The Coastal Arts Center is the perfect place for a flaming hot date. And by hot, we mean fiery, as it's home to The Hot Shop. Here you can take a "Make Your Own Glass" class with your partner and learn all about the art of glass blowing. You'll be able to create your own piece to take home to remember the experience. 
4. Enjoy an Intimate Meal
If you're interested in an upscale dining experience for an extra special date night, check out Chef's Table by Orange Beach Concierge, a signature experience in Orange Beach. Chef David Pan plans the perfect multi-course menu with locally sourced, high-quality produce, fresh seafood and game meats. Add some wine, and you're living the dream.
6. Have a Picnic on the Beach
What's better than a picnic on the beach? One you don't have to pack! Southern Charm Picnic Co. plans the perfect picnics providing set-up and clean-up that includes flowers, food, seating, décor, and more. All you have to do is pick the date and time, and they handle the rest. 
8. Take a Helicopter Tour
Take flight with Lost Bay Helicopters! A veteran-owned and operated helicopter tour company, Lost Bay Helicopters offers stunning beach tours, romantic sunset flights and skydiving rides. You'll be in the more-than-capable hands of highly skilled pilots dedicated to making your experience safe and memorable.
10. Embark on a Cat Boat Tour
A small, two-passenger boat might be the perfect setting for a daytime date with your special person. Give a look at Orange Beach Cat Boat Tours, where you'll get a safety briefing before departing to explore the back bays of Alabama's coastal waterways. Head down Ole River to the Flora-Bama Yacht Club for lunch, and you might just spot a dolphin popping out of the water to say hello!
Alabama's beaches are the perfect place for a memorable date! Check out even more fun things to do and date-worthy restaurants.