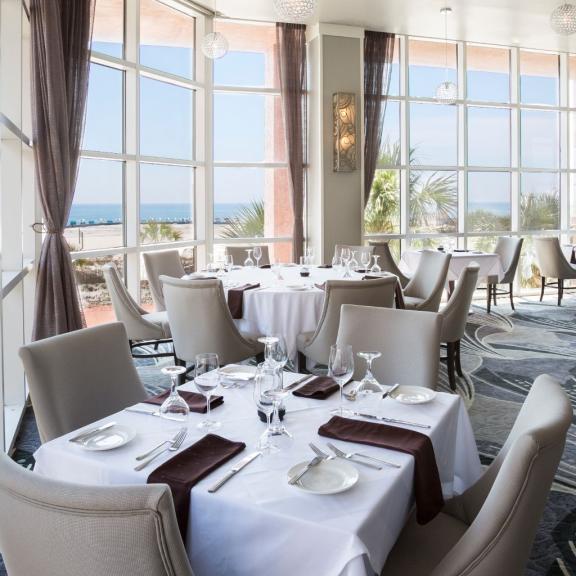 Fine Dining Restaurants
In Gulf Shores & Orange Beach
July 5, 2023
While we all love the familiarity and favorites of our go-to restaurants, it's good to get out and enjoy a special dinner in a new place. Where better to indulge in an evening of fine dining than the beach? Whether you're celebrating a birthday, anniversary, or graduation or just want to enjoy an unforgettable date night, here are the best restaurants in Gulf Shores and Orange Beach that offer fine dining.
2. Perch
Nestled right on the beach, Perch is one of our favorite restaurants overlooking the sugar-white sand and turquoise waters of Gulf Shores. Your taste buds will thank you when they savor the thoughtfully prepared food and handcrafted cocktails this restaurant offers. In addition to its amazing views and eats, Perch also features an outdoor deck furnished with fire pits and covered seating. Located at The Lodge at Gulf State Park, Perch is open only for dinner.
4. Pier House Restaurant and Bar
Delectable dishes, a refreshing ambiance, and fine art are what you get when dining at Orange Beach's Pier House. The atmosphere is unlike that of any other restaurant, featuring an on-site gallery and relaxing music to complement its mouthwatering menu. As it's all about the experience at Pier House, guests can sit indoors surrounded by impressive art or outside to immerse themselves in the natural beauty of Orange Beach.
6. Big Fish Restaurant & Bar
Sophistication meets fresh seafood at Big Fish Restaurant & Bar in Orange Beach. Here you'll find seafood favorites along with a sushi bar and land fare, all prepared in their open kitchen, so you can watch your meal being made. Open for lunch and dinner, Big Fish offers indoor and outdoor seating, both with a relaxing and cultured atmosphere. To make your experience here even more special, enjoy an evening meal dining beneath the patio lights or cozied up by the fireplace.
8. Jesse's Restaurant
A quick trip to Magnolia Springs will lead you to Jesse's Restaurant, one of the best steakhouses on the Alabama Gulf Coast. This beloved restaurant has served the area for 25 years with aged steaks, fresh seafood, and impressive cocktails. The building itself is over 100 years old and offers guests a glimpse into the community's past. We suggest making a reservation before heading to Jesse's, as it's a popular spot for special occasions.