Tuna time for center console boats
A Part Of The What's Biting Series
July 28, 2020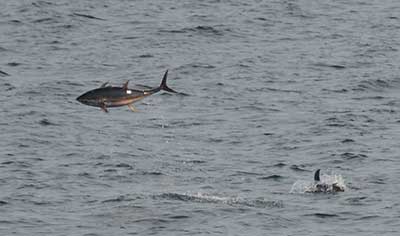 Most of the tuna fishing in our area takes place at the rigs starting seventy-five miles to the southwest. Due to the long runs to get there, this is usually done by big boats and charter boats that specialize in catching tunas. If you can catch the right weather window, the rigs are reachable in smaller center console boats, but everything must line up just perfectly to make that trip.
In recent years, reports of tuna showing up close to Orange Beach have been few and far between. "Years ago, we would consistently see big schools of Yellowfin and Blackfin tuna in open water at places like the elbow and dumping grounds," said long time offshore fishermen and former television host Mike Ward. "I'm not sure why, but we haven't been seeing them like we used to."
I wish I knew why they haven't been around like they used to be, but more importantly I'd like to figure out why they are here now! Recently, I got a report of schools of tuna around the elbow, which is about forty miles from Perdido Pass. The chance to catch tunas in our small center console boat had me sleepless the night before my trip.
Once I found a small patch of decent water east of the elbow, the tuna were there as promised. Fishing for tuna in open water is much different than fishing for them around rigs. Tuna can make for a maddening day when you see them jumping all around the boat and can't buy a bite. Next time you see me, ask me how I know!
Tuna can also be very leader shy so as I rigged up for this trip I downsized my leaders to 200 and 130-pound test fluorocarbon. I was ready to go lower if needed, but it wasn't necessary. Fortunately, they were ready to eat early, late and often. My two lady anglers were busy fighting fish from around 9:30am until we pulled lines in at 7:00pm.
I like to pull my baits way behind the boat when I see tunas busting; they seem to always like a little more distance between the boat and baits than other big game fish. I was pulling Ianders and ballyhoo and was able to to put a nice box of Blackfin and small Yellowfin in the boat. I also had a few billfish knock downs and lost two wahoos as they chewed through my light leaders.
Why they are here right now is the big question. The water to the east has been less than ideal all summer for trolling, but that small patch of pretty water was holding the fish. With this weekend's Mobile Big Game Fishing Club's Limited Tournament (for small boats), we should get plenty of reports if the tuna have decided to stick around to give us small boats more chances.