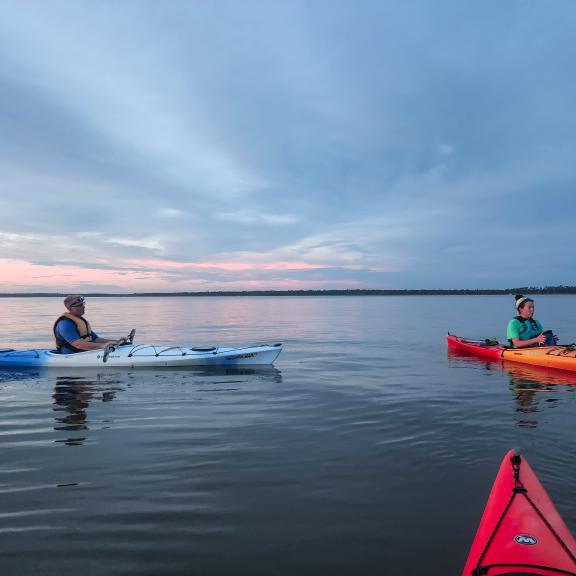 Your Guide to Kayak Fishing
July 24, 2020
Kayaking is a favorite pastime along Alabama's beaches. Imagine a tranquil excursion where you are low to the water and in complete sync with Mother Nature. Now add a fishing pole and it takes on an entirely different level of connecting with wildlife.
Don't let the sound of a motor scare away your next big catch. Become one with the water and glide your way to a great day on the water with kayak fishing.
Whether you are experienced at kayaking or a beginner, you'll find picture-perfect places to kayak fish on the Alabama Gulf Coast. It's an outdoor lover's dream come true here. Numerous bodies of water welcome you to kayak fish, including the Gulf waters, countless rivers, numerous bays, and many creeks and streams. Gulf Shores, Orange Beach and Fort Morgan have a number of places to rent kayaks to enjoy the peace and quiet nature has to offer.
The City of Orange Beach Wind & Water Learning Center offers clinics on kayak fishing. The main purpose is to teach techniques on how to maneuver a fishing kayak, how to use and detach an anchor trolley, and casting practices. The class is $70 for three hours and includes all the equipment needed for kayak fishing. The waterfront learning center accommodates those 15 years and older, and all skill levels. A convenient location on Wolf Bay makes for easy access to the scenic bay water. In addition to the kayak fishing clinic, the Wind & Water Learning Center also offers a sail camp and kayaking classes for beginners.
A few great places for kayak fishing
Little Lagoon on West Beach in Gulf Shores is considered a hidden treasure, offering shelter and a variety of fish. The channel at Lee Callaway Bridge is deep and dredged often, allowing for better water exchange between the Gulf and the lagoon. Trout is a popular catch, but there are also plenty of redfish and flounder. Anglers recommend using the boat ramp at Lagoon Park on Fort Morgan Road.
If you are staying on Fort Morgan Road and feeling adventurous, kayak fish the Dixey Bar, a large sand bar between the Gulf of Mexico and Mobile Bay. Anglers warn of a strong current, but the catches include bull redfish, amberjack, pompano and king mackerel, to name a few.
For kayak fishing in Orange Beach, try Robinson Island and Bird Island. Conveniently located by Perdido Pass, kayak anglers can launch at Alabama Point. Check the direction of the wind to find which side of the islands are calmer and therefore a better option during your visit.
There are many benefits of kayak fishing, such as stress reduction, exercise, brighter mental health and improved heart health. When you're able to get a fresh catch for dinner as well, it's a win/win. Whether you already have a kayak or need to rent one, make sure you visit Alabama's beaches for your next 'yak fishing excursion.