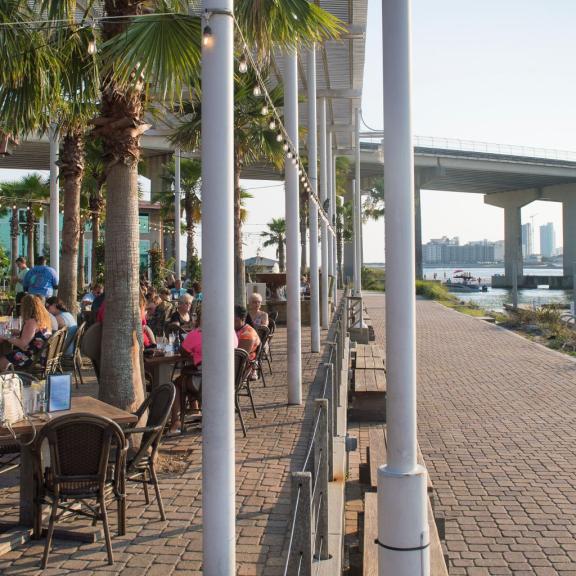 April 25, 2022
Is there anything better than heading to the stereotypical 19th hole following a fantastic round of golf? Perhaps you are celebrating a career-best round or simply looking forward to reminiscing on an entertaining game with friends and family. Finding the perfect spot to relax and indulge in delicious local cuisine and a few of your favorite drinks is equally as important as finding the ideal golf course. 
The beauty of many courses on the Gulf Coast is that they offer on-site dining options that are excellent for relaxing before, during, and after your round of golf. Whether you are intrigued by the prospect of sampling the Gulf Coast's iconic local seafood fare, or perhaps you simply want to dine somewhere that you can enjoy those stereotypical Alabama coastline sunsets, the options are endless. 
 
Both Gulf Shores and Orange Beach are home to a plethora of locations that offer everything you and your golfing buddies could wish for to enjoy the perfect 19th Hole experience.
Enjoy the 19th Hole at the Course
The bar and grill at Craft Farms is an equally enticing prospect, with the clubhouse overlooking Cotton Creek's 18th green. It also offers decadent cuisine options, from the Baldwin Berry Salad featuring prosciutto, hand-cut greens, and praline pecans to the Smash Shot Burger, one of the most popular menu items.
 
Kiva Grill provides a comprehensive menu for golfers to enjoy after a round at Kiva Dunes while enjoying breathtaking views of this links-style course. If you are staying on property here, this is the perfect 19th Hole experience to relax and enjoy a selection of "on the rocks" cocktails, frozen drinks, and draft beers.
Enjoy Off-Site 19th Hole Experiences
Golfers who ventured out to Orange Beach Golf Center to hit the range before dinner should consider heading to GTs on the Bay to enjoy some of Orange Beach's finest seafood dishes. The outdoor patio frequently offers live entertainment, while the views of Wolf Bay are certainly some of the finest along the Gulf Coast, especially during the golden hour prior to sunset. Enjoy GTs Rum Punch or the signature Tropic Thunder served in a pineapple to enhance your experience.
 
A trip to Lost Key Golf Club not only rewards golfers with a high-quality course but just a few miles along the coast is one of the Gulf Coast's signature dining spots - Cobalt, The Restaurant. With stunning panoramic views overlooking Perdido Key from the outdoor seating area, this waterfront dining experience is what epitomizes everything there is to love about a golfing getaway on the Gulf Coast.