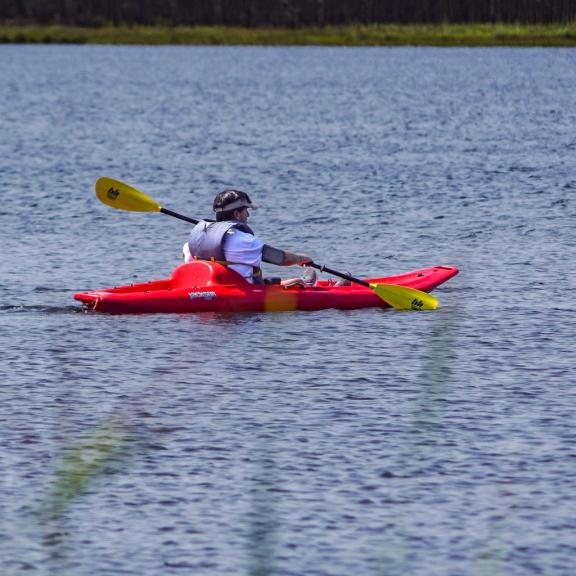 9 Things to Do in September
In Gulf Shores & Orange Beach
July 10, 2023
Summertime may be gone, but the fun isn't! September on Alabama's beaches is full of can't-miss events and exciting activities. Check out these nine things to do in Gulf Shores and Orange Beach this September.
2. Throw an Axe or Two
In the mood to try something new? Check out The Axe Hole at The Wharf, as this exciting spot offers tons of fun. Let loose and try your hand at hatchet throwing. All you have to do is throw the axe at the wooden target. After you're finished throwing, enjoy a game of cornhole or check out the blade shop.
4. Channel Your Inner Cowboy
If you're looking for a heart-racing, adrenaline-pumping event, head over to Flora-Bama for their annual Bulls on the Beach from September 7-9. This bull riding event brings professional bull riders from all over the country to our area to compete at this rodeo. The fun starts every evening at 8 pm, and the gates open at 6 pm.
6. Run, Bike, & Swim
This September marks the 16th annual Brett/Robinson Alabama Coastal Triathlon. Hosted by Brett/Robinson Vacation Rentals, this triathlon occurs every year on the Saturday after Labor Day. On September 9, racers will compete on the beach starting at The Hangout. This race includes a swim in the Gulf, a flat bike ride, and a breezy run. Grab your running shoes, swimsuit, and bike and join us on the racecourse.
8. Take a Surf Lesson
Ever wanted to hang loose and ride the waves? Tambo's Surf Shack and Red Flag Surf and Dive offer private surf lessons for individuals and small groups. The crew at both places will equip you with a board and teach you the basics of surfing. The cooler months offer the best surf conditions in the Gulf of Mexico, so September is a great time to learn the ropes and practice before the prime season begins.