Freedom Fest
From: 9:00 AM to 4:00 PM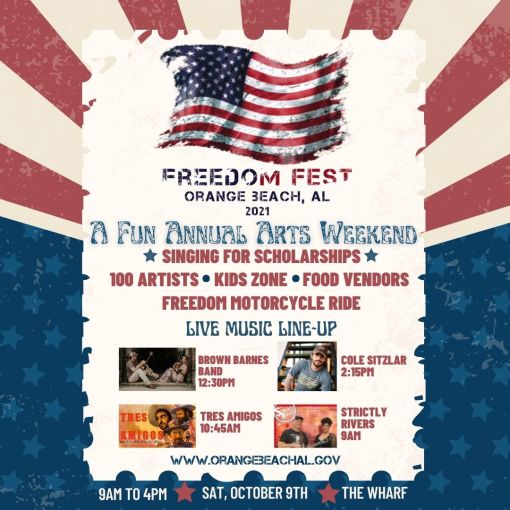 As you make plans to attend this event during these confirmed 2022 dates, we will update this section with more details as soon as we learn of them. Meanwhile, last year's details are included below for you.
The City of Orange Beach is excited to announce the inaugural Freedom Fest, a fun annual arts weekend, which will be held from 9 a.m. to 4 p.m. on Saturday, October 9 at The Wharf.
The event will include 100 artists covering a wide variety of mediums and crafts, local music, food, a charity motorcycle ride and Singing for Scholarships student competition. Commemorative merchandise, such as T-shirts, will also be available.
The event will take place on the west end of The Wharf, adjacent to the movie theater.
The music stage will feature Brown Barnes Band, Cole Sitzlar, Tres Amigos and Strickly Rivers.
Food
First of all, YES! there will be cajun pistols, thanks for Bon Temps PoPoys, which will also serve jambalaya. Other menu items from a variety of vendors will include empanadas, BBQ, burgers and Freedom fries, Hawaiian shaved ice and Acai fruit bowls, just to name a few things. Also, The Wharf's restaurants will be open for everyone to enjoy.
Parking
Parking will be on-site at The Wharf. If there is a need for overflow parking, an off-site shuttle system will be initiated from the high school parking lot and then the Orange Beach Sportsplex.
Music
Strickly Rivers: 9:00-10:30

Tres Amigos: 10:45-12:15

Brown Barnes Band: 12:30-2:00

Cole Sitzlar: 2:15-3:45
Charity Ride
The Marshals' Let Freedom Roar Run and Rally is scheduled to roll at noon on October 9th from the Orange Beach Event Center. The motorcycle and Jeep parade will leave from the Event Center parking lot then ride to the Alabama Point Bridge and loop back to the Freedom Fest.
Singing for Scholarships
Singing for Scholarships will be held at 10 a.m. Saturday, October 9th at The Port at the Wharf, 4724 Main Street.
See All Dates

09/30/2022

9:00 AM - 4:00 PM

10/01/2022

9:00 AM - 4:00 PM

10/02/2022

9:00 AM - 4:00 PM