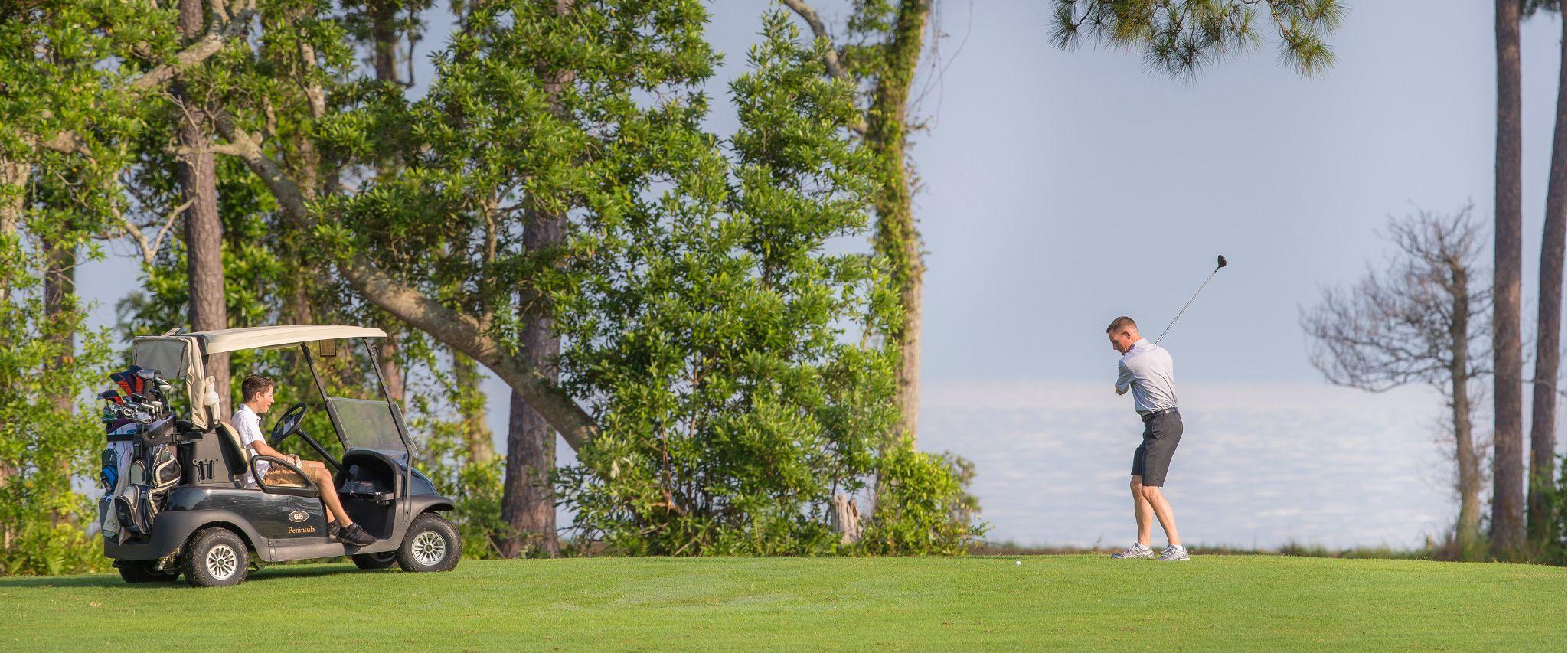 Top Reasons Golf is Different in Coastal Alabama
Coastal Alabama is a prime destination for golfers searching for championship courses, Southern hospitality and added extras that make time away from the fairways special.
October 15, 2019
A golf vacation isn't just about the golf, after all. Take a look at the whole package when choosing the perfect golf courses for tee times in Gulf Shores.
Alabama Gulf Coast Golf Courses
The Alabama Gulf Coast offers the ideal, sub-tropical climate that makes golf possible nearly year-round. Enjoy championship golf courses where you can hone your skills, take a lesson from a pro and challenge yourself on spectacular signature holes with a Gulf breeze to help keep you cool. There's nothing quite like a round of golf at the beach, and in Gulf Shores and Orange Beach, you'll find a course at every turn. 
All within close proximity, golf courses along Alabama's beaches allow for maximum use of time. It is very possible to play one course in the morning and a different one in the afternoon because the drive factor is so cooperative. Play award-winning Kiva Dunes Golf Course on the Fort Morgan peninsula of Gulf Shores for the perfect beach golf experience showcasing the area's natural beauty. Kiva's updated Bermuda TifeagleTiff Eagle grass creates a smooth playing surface all golfers love. Coastal reminders are noted throughout the links-style course with sugar-white sand traps and natural dunes. Kiva Dunes golf club in Gulf Shores is a good blend of unique, yet challenging holes that brings players back over and over again. 
Just a short drive from Kiva Dunes is the Arnold Palmer-designed Cotton Creek at Craft Farms. Gorgeous tree-lined fairways, doglegs, smaller greens and an abundance of risk/reward opportunities makes Cotton Creekthis a fun resort-style place to indulge. While you're there, check out Cypress Bend at Craft Farms as well. Like its neighbor, Cotton Creek, Cypress Bend is an Arnold Palmer course with a coastal flair and ranked as the No. 1 most playable course in the United States shortly after opening. Enjoy upscale greens and lush playing conditions as well as a unique cord-grass accented lake that comes into play often throughout your game. Both courses are 18 holes. 
Hospitality and Good Eats
Good ole Southern hospitality is often noted as a reason to play golf in the South. From treating folks well on the golf course to lending suggestions on where to eat, shop and relax, some of the friendliest people on the planet live, work and play in Gulf Shores and Orange Beach. And, their advice is usually solid. 
Alongside hospitality is a thriving culinary scene serving up everything from fresh-off-the-boat seafood to big, juicy burgers. After a full day on the course, satisfy your hunger with dishes at award-winning restaurants. Stop by Big Beach Brewing Company for locally brewed craft beer, too.
Extra, Extra. . .
Golf is different in coastal Alabama. You can leave your game behind and hit the softest, whitest sand you ever seen, juxtaposing lovely turquoise waters sometimes only steps from the course. Grab a chair, a drink and your sunglasses to relax and release the day. 
Need more? The Wharf in Orange Beach offers a one-stop-shop for everything under the sun. Play golf in the morning and visit The Wharf in the evening to enjoy a walk around the marina, a little shopping, a movie, a massage at Fusion Spa or a meal at one of the entertainment district's numerous restaurants. If you didn't get enough time in on the course, there's even a miniature golf course that is sure to be a winner with the teens and tweens in your group. Be sure to also find a place to stay nearby!
Browse our specials offers to make planning your next golf vacation in Gulf Shores or Orange Beach a breeze!