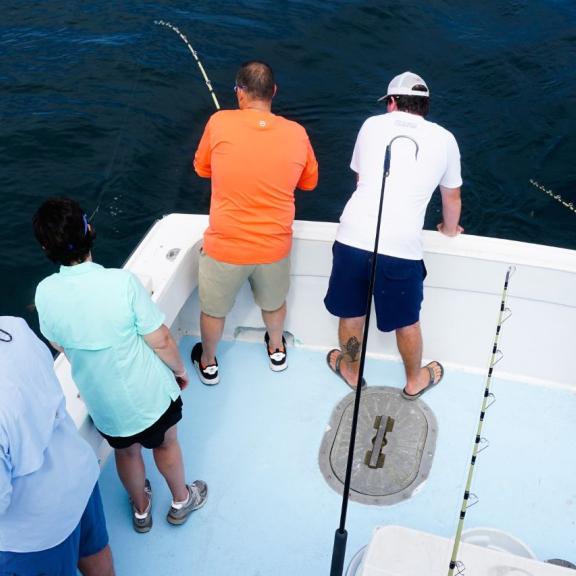 What's Biting: From Rats to Bulls, Redfish Give Anglers Plenty of Options
When the sweat is pouring off your brow because you're having trouble finding fish that will consistently bite. Never fear. Redfish are here, and plenty of them.
August 3, 2020
Once a species that was in dire straits because of overfishing, redfish (red drum for all you purists out there) have made a remarkable comeback from the days when the blackened redfish craze threatened to put the fish on the endangered list.
So many redfish roam Alabama waters that some folks are complaining that the reds are eating all the blue crabs. No research confirms this, but the abundance of redfish certainly has people talking.
Alabama is blessed with fertile estuaries and bays, perfect habitat for reds, and these fish seem to always be hungry.
Anglers put redfish into three categories­­—rat reds, slot reds and bull reds. Rat reds are those fish that fall under Alabama's slot limit of 16 to 26 inches and must be immediately returned to the water if hooked. The slot reds are the keepers that are in that 16- to 26-inch category, and those fish are under a three-fish daily bag limit. The bull reds are the fish larger than 26 inches. State regulations allow for one fish larger than 26 inches to be included in the three-fish bag, but I encourage anglers who catch a bull to take a photo and release it.
When you target slot reds, think of structure and shoreline. The inshore reefs from Fort Morgan to Perdido Bay, many of which have been refurbished with new material, offer multiple opportunities to catch those stringer-sized reds. If you're not having much luck on the reefs, try the Intracoastal Waterway.
I prefer to cast jigs with minnow and shrimp imitation plastic bodies, but I do like to take a little insurance with some sort of live bait. Head to the bait shop and grab some live shrimp or croakers, if available. If you're good with a cast net, look for pogies (menhaden) flipping on the surface or birds diving into the water. Although reds will sometimes hit topwater baits when conditions are right, most of the time you'll get more bites when fished on the bottom. If the structure makes it difficult to keep from getting snagged, use a popping cork to keep the bait suspended just above the structure.
Another technique is best on a rising tide, when the redfish move into the shallower water to cruise the shoreline in search of any crustacean it can find. Those minnow and shrimp imitations work as well as a gold spoon. It's similar to bass fishing as you fan cast along the shoreline for those cruising reds.
If you want to test your fishing tackle, Alabama has one of the hottest bull red spots around, called Dixey Bar, named after a ship that ran aground there during a hurricane in 1860. Dixey Bar is a shallow sand bar on the east side of the Mobile Bay ship channel just off Fort Morgan.
With depths from 5 to 10 feet, Dixey Bar is about 3 miles long, but the width varies from about 2 miles wide near Fort Morgan to on a couple of hundred yards wide as it fades into the Gulf on the south end.
The reds can school on Dixey Bar, and they will hit anything that moves from topwater plugs to jigs. If you don't see schools, a slow drift down the bar with baits dragging along in Carolina-rig style. I like to use a strong Kahle hook, either a no. 4 or no. 2 size. A half-ounce egg sinker attached a couple of feet above the hook will keep the bait near the bottom.
If you're after the bulls, best put the light tackle away and opt for a 7-foot, medium-heavy rod with a reel that will hold a couple hundred yards of 14- to 15-pound test monofilament or 20-pound braided line. Be sure to check your drag before putting a bait in the water, because your drag must work correctly to be able to land one of these drag-stripping behemoths.
And don't get in a hurry with a bull red. The fish is going to make several runs before it tires enough to be subdued.
No matter what size you're after, the Alabama Gulf Coast is the place to be when it comes to catching the redfish of your choice or dreams.
Subscribe to Gulf Shores & Orange Beach Tourism's fishing newsletter, Coastal Catch, to learn all about fishing on the Alabama Gulf.