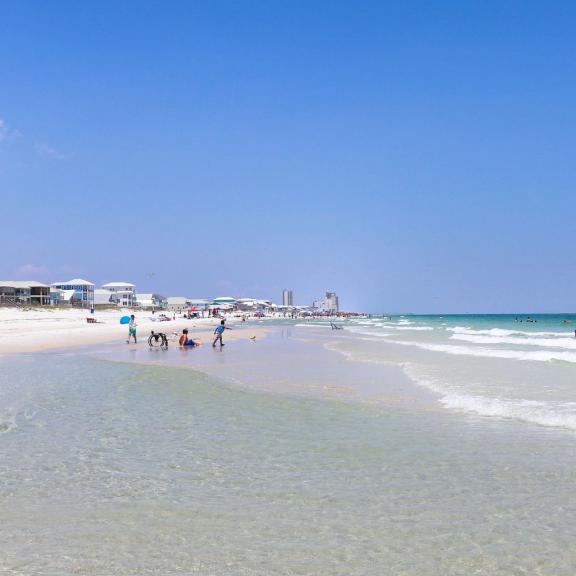 Benefits of Long-Term Contracts
In Gulf Shores & Orange Beach
May 30, 2023
It's no secret – in a post-pandemic world, meetings have changed, but is that a bad thing? Relationship-building has always been vital for planners with CVBs, hotels, vendors and attendees, but the relationship aspect has only grown in importance. While the attendee makeup and how meetings are conducted may look different, there is no better way to meet than in person to strengthen relationships and build new ones, even with virtual and hybrid opportunities being key complements.
With long-term relationships comes long-term contracts – an industry move that is becoming paramount for a variety of reasons, from securing ideal dates and locations to cost and engagement. We spoke with two planners who have met along the Alabama Gulf Coast for many years and will plan to stay on our shores for years to come. Learn why long-term relationships and contracts are critical for the long term from John Matson, vice president of communications with the Alabama Nursing Home Association, and Susan Harris, executive assistant for the Alabama Sheriffs Association.
Q: What meeting(s) do you hold in Gulf Shores and Orange Beach?
John: We host a mid-year convention. It is a three-day, two-night convention held in late April.
Susan: The Alabama Sheriffs Association holds our summer conferences in Orange Beach or Gulf Shores annually in July. We typically have about 60 of the 67 sheriffs, plus their command staff and families attend, in addition to about 100 representatives from vendor companies exhibiting during the conference. So, we plan for about 250 attendees.
Q: How long have you held this meeting (or these meetings) in the destination?
John: 20+ years
Susan: We have held this meeting in Orange Beach/Gulf Shores area annually for more than 25 years.
Q: How has a multi-year contract or agreement benefited your organization?
John: A multi-year agreement gives us stability and helps us negotiate more favorable rates, which benefits our attendees. I think it helps the hotel look at our association as a business partner because they can count on us to return year after year. We've developed strong relationships with the hotel staff, which makes it easier for them to understand our needs and meet our expectations.
Susan: A multi-year contract benefits our association by locking in the best room rate, which encourages more attendance, which in turn brings in more revenue. It's also nice to have those dates/contracts locked in for planning purposes both for the sheriffs and for our vendors – both for budget purposes and scheduling.
Q: What are the benefits of working with Gulf Shores & Orange Beach Tourism/convention and visitor bureaus in general for your destination gatherings?
John: The local CVB is a meeting planner's best resource. I don't make a major change to our convention without first talking to the staff at Gulf Shores & Orange Beach Tourism. They have their ear to the ground and offer the best advice on what resources we should use along Alabama's Gulf Coast.
Susan: Working with Gulf Shores & Orange Beach Tourism/convention and visitor bureaus, in general, gives us access to the pulse of the community, knowledge of new businesses and venues, and answers to questions regarding excursions and outings. They know all the cool stuff to do!
Q: What are your favorite things about Gulf Shores and Orange Beach?
John: My favorite thing about hosting a convention in Orange Beach and Gulf Shores is the people. The hotel staff truly practices Southern hospitality and genuinely wants our meeting to be successful. Outside the venue, the restaurant and retail employees are friendly and laid back and make sure our attendees enjoy their time at the beach.
Susan: My #1 favorite thing about Gulf Shores and Orange Beach is the BEACHES! They are the most beautiful beaches on earth! My next favorite things are the variety of restaurants, activities and shopping available.
Q: What do your attendees enjoy about the destination?
John: The convention packs a lot of education into a short timeframe, but our attendees feel laid back because they can glance outside and see the beach. Once the education ends, you will find them enjoying the beach, trying a new restaurant or shopping.
Susan: The sheriffs enjoy meeting in a relaxing environment, the availability of fresh seafood and the variety of restaurants in the area as well as the beaches. I understand the fishing and golfing opportunities rank pretty high as well!
Q: Do you see many attendees incorporating pre- or post-vacations/workcations (bleisure trips) into their meeting travel to the Alabama Gulf Coast?
Susan: Many attendees will take advantage of the hotel's offer for the room rate to be available three days prior or three days after our meeting dates to enjoy the area more, lay out by the pool or walk the beaches during the evenings, without being on a schedule.
Q: Anything else you'd like to add?
Susan: The people who work at the hotels, restaurants and other local businesses are often ones we see year after year, and it's great to see that their employers maintain a core staff. That speaks volumes about the local business owners.
To learn more about securing long-term contracts, access free planning resources or discovering Gulf Shores and Orange Beach, contact our sales team today!