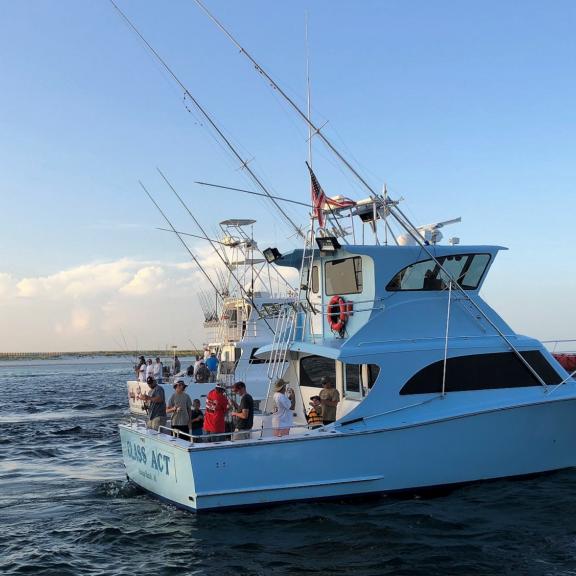 Aquativites
Gulf Shores & Orange Beach
Water is a way of life in Gulf Shores and Orange Beach, with the Gulf of Mexico to the south, numerous bays and coves to the east and west, and a few lakes right in the middle.  
Ready to channel your inner water god or goddess? Pick your pleasure from countless opportunities including: boat, kayak, paddleboard and jet ski rentals; parasailing; sailing and dolphin-watching cruises; diving and snorkeling; and fishing.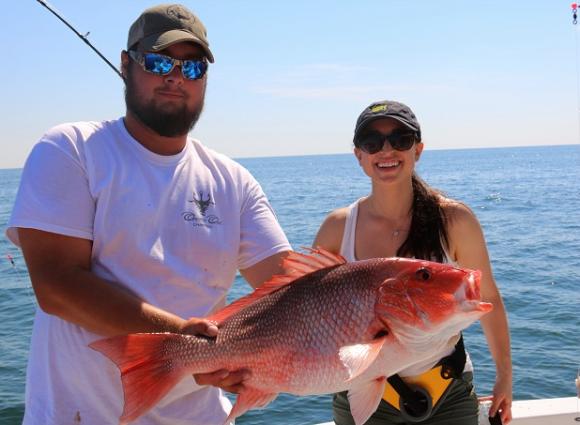 Fishing
Literally surrounded by water, Gulf Shores and Orange Beach is a fishing haven and are home to one of the largest charter fishing fleets along the Gulf of Mexico. Choose to wet your line anywhere from inshore and onshore to near shore and offshore (deep sea) on trips that last anywhere from a couple of hours to days.  
Never fished before? No worries, charter captains and deck hands are great teachers or take a quick class with the Angler Academy offered by Gulf State Park. An Alabama Fishing License is required; for charter trips, the license is included in the charter price. Need to know what fish are popular during different seasons of the year? Check out our Fishing Seasons page! 
Watersport Galore
With water as a way of life in Gulf Shores and Orange Beach, there are many rental companies that offer kayaks, paddleboards, jet skis or waverunners, and boat rentals, as well as various types of guided tours. Guests can choose from activities in the Gulf, Bon Secour River, Orange Beach back bays or Gulf Shores' Little Lagoon --or explore all options paddling the Back Bay Blueway! Whether you are new to watersports or a seasoned vet, adventures await on the water.   
Take a Dive 
Within the blue there are many popular wrecks and sites in Gulf Shores and Orange Beach created by the Alabama Gulf Coast Reef & Restoration Foundation: 
The LuLu 
Sunk in 2013, The LuLu is a 271-foot retired coastal freighter. Originally named M/V Yokamu and bought by David Walter of Walter Marine, the ship was renamed The LuLu by the project's title sponsor Mac McAleer, owner of Homeport Marina in Gulf Shores. With the top of the ship sitting at 60 feet below the surface and the bottom at 115 feet, the upper portion of the artificial reef is accessible for first -time divers while veteran divers can explore the deeper sections of the vessel. 
Poseidon's Playground 
At a depth of 40 feet, Poseidon's Playground is a group of shallow artificial reefs for scuba divers to explore just three miles south of Perdido Pass and the Gulf State Park Pier. Fun, whimsical statues including Poseidon, Venus of the Sea, Apollo and various marine creatures fill this project, adding to the diversity of dive sites along Alabama's Gulf Coast, and makes for a unique underwater selfie location. The site is perfect for kids and beginner divers, training classes, night dives and shallow-water fun. The first statues were deployed in December 2014, and the site continues to grow. In 2015, a new theme was added to Poseidon's Playground with the introduction of the "Reefs of Fame." While Nicholas Cage was in Orange Beach filming "USS Indianapolis: Men of Courage," he, Cody Walker and director Mario Van Peebles placed their hands in concrete that was then incorporated into a fish pyramid reef. This is an ongoing project that continues to add the handprints of well-known artists, actors, etc. 
Capt. Shirley Brown Memorial Reef 
The Capt. Shirley Brown is a 128-foot-long former vessel built in St. Marks, Florida, in the 1940s for the Tennessee Gas & Transmission Company (later "Tenneco"). Captain Shirley Brown bought the vessel from Tenneco in the 1980s and transformed it into a "party" vessel for birthday parties, community breakfasts and industry trade forums in Pensacola, Florida. After Capt. Brown passed away, his family donated it to the foundation for deployment as an artificial reef. The wreck sits at a depth of 85 feet and the top deck is approximately 75 feet from the surface. 
Fairfield New Venture 
The Fairfield New Venture is the newest dive site in Orange Beach. The former research and survey vessel was built in 1986 in Louisiana. The 250-foot-long and 56-foot-wide ship was deployed in late June 2018. The New Venture sits near The LuLu allowing divers to hit both dives in the same trip. With the top wheelhouse being 60-feet deep and the bottom sitting at about 125-feet deep, this dive site is accessible to both novice and advanced divers. 
Snorkeling 
Recently, 166 snorkeling reefs were deployed at three locations past the second sandbar south of the Beach Pavilion at Gulf State Park in Gulf Shores, and the Romar Beach Access and east of Perdido Pass in Orange Beach. The reefs sit at about 10 feet of water and extends nearly 20 feet. This is a fantastic option for families and non-divers to explore the fascination underwater life that exists in the beautiful Gulf of Mexico. 
For more information on the location of dive sites and dive operators, visit www.gulfshores.com/diving 
To learn more about snorkeling, visit https://www.gulfshores.com/things-to-do/water-activities/snorkeling/. 
Fun Fact: Alabama has the largest offshore artificial reef system in the entire United States, which makes for spectacular diving and great fishing because these reefs –made up of everything from Jeeps, tanks and mailboxes to monstrous cargo ships – have become home to and feeding grounds for a variety of marine species. Each year Alabama's artificial reefs program grows, and new reefs have been deployed closer to shore, near Gulf State Park beaches, to create easy access snorkeling areas. 
Alabama Marine Resources Division provides GPS coordinates to all artificial reef systems here: https://www.outdooralabama.com/saltwater-fishing/artificial-reefs