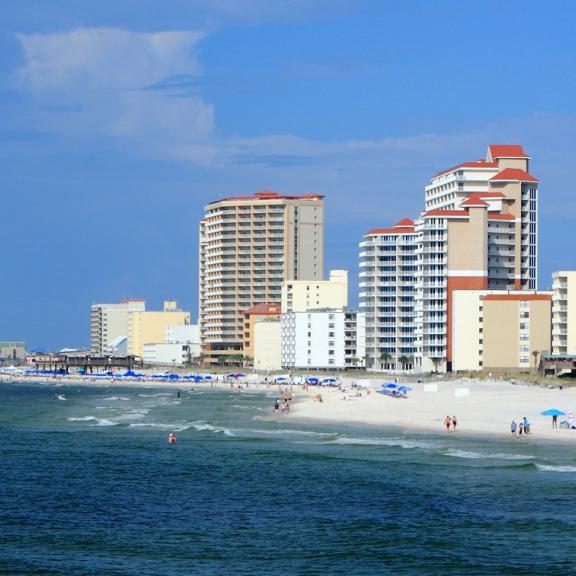 Destination Overview
Gulf Shores & Orange Beach

Gulf Shores & Orange Beach Tourism promotes the cities of Gulf Shores and Orange Beach in addition to the unincorporated area of Fort Morgan on Alabama's Gulf Coast. Most of the two cities and all of the Fort Morgan peninsula are on a 27,000-acre island that boasts 32 miles of sugar-white sand beaches along the turquoise waters of the northernmost coast of the Gulf of Mexico, plus another 400,000 acres of freshwater lakes, rivers, bays and coves.
The city of Gulf Shores spans approximately 30 square miles while the city of Orange Beach covers 13 square miles. Situated between the two cities is the 6,150 protected acres of Gulf State Park. Along the Fort Morgan peninsula, Bon Secour (bon SEE-coor) National Wildlife Refuge adds another 7,000+ acres of protected lands
Location
Gulf Shores and Orange Beach are located in Baldwin County on the southernmost tip of Alabama between Mobile, Ala. (50 miles to the northwest) and Pensacola, Fla. (35 miles to the east). Easily accessible from Interstate 10 via Highway 59 or the Beach Express, most of the two cities are on an island with geographical borders of the Intercoastal Waterway to the north, the Gulf of Mexico to the south, Mobile Bay to the west and Perdido Bay to the east.
Airports
Commercial
Pensacola International Airport (PNS) is the closest airport, just an hour drive, and is serviced by American, Delta, Frontier, Silver Airways, Southwest and United with non-stop flights from 20 destinations including Atlanta, Charlotte, Dallas, Houston, Miami, Nashville and Washington, D.C. In-terminal car rental companies include Alamo, Avis, Budget, Dollar, Enterprise, Hertz, National and Thrifty, along with nearby local companies Guardian Rent-A-Car and Pensacola Jeep & SUV Rentals. There are a variety of taxi and limo services, and ride-sharing companies have a designated pick-up location outside the main terminal. For handicap accessible or wheelchair van rentals, check with Superior Van & Mobility and Team Adaptive.
Mobile Regional Airport (MOB) is approximately a two-hour drive and is serviced by American and United with daily non-stop flights from Atlanta, Charlotte, Dallas and Houston. In-terminal rental car companies include Alamo, Avis, Dollar, Enterprise, Hertz, Thrify and National. There are a variety of taxi and limo services, and ride-sharing companies have a designated pick-up location on the southwest corner of the main terminal. For those with special needs, Team Adaptive offers wheelchair van rentals.
Private
Jack Edwards National Airport (JKA) in Gulf Shores is a small airport for private planes and is the 2nd busiest airport in Alabama. Just a few miles north of the beach, the airport has been approved for an air traffic control tower by the Federal Aviation Administration which is expected to open in 2021. For information on runway length and other key information for private pilots, please visit the airport's at www.flyjka.com.
Climate
Alabama's Gulf Coast offers a pleasant climate with warm spring, summer, and fall, with very mild winter. Here are average temperatures by season:
| Season | Average High Temperature | Average Low Temperature | Average Water Temperature |
| --- | --- | --- | --- |
| Spring | 76 | 56 | 69 |
| Summer | 89 | 73 | 83 |
| Fall | 80 | 59 | 73 |
| Winter | 65 | 47 | 56 |


Demographics
Residents – According to 2018 U.S. Census Bureau estimates, the combined population of Gulf Shores and Orange Beach is 18,631 (Gulf Shores at 12,517 and Orange Beach at 6,114). Census data shows the total population of Baldwin County is 223,234, making it the 5th most populated county in Alabama and the fastest growing.
Visitors – Gulf Shores and Orange Beach pulls the majority of visitors – well over 90% – from regional drive markets; the Southeast is our primary market followed by the Midwest. As a family-focused destination, our primary audience is families – including multi-generational – who visit during our peak summer season. Families, couples and friends are frequent visitors during the spring and all, and winter sees increasing numbers of visitors escaping the cold from many northern states and Canada.
While the beach is the primary attractor for the destination, many thriving niche segments continue to grow, especially nature/outdoors, culinary, festivals/events, fishing, golf, and sporting events and competitions.
Lodging
With more than 18,000 vacation rental units and hotel rooms along Alabama's Gulf Coast, there is the perfect room and view for just about anyone. Approximately 85 percent of our inventory is condominium units, with many managed by local vacation rental companies and others rented by individual owners. The hot construction sector right now are beach houses and cottages, from quaint 2-bedroom option to expansive spaces that sleep up to 42 people! Two full-service hotel resorts combined with numerous smaller properties represent many of the major national chains and a few privately-owned properties. Rounding out the lodging options are close to 15 RV parks and campgrounds and two charming bed and breakfast properties.
Distance to Key Markets
Atlanta, GA 370
Baton Rouge, LA 252
Birmingham, AL 274
Chicago, IL 937
Cincinnati, OH 744
Cleveland, OH 992
Columbus, OH 851
Dallas, TX 646
Des Moines, IA 1,032
Detroit, MI 1,006
Houston, TX 518
Huntsville, AL 369
Grand Rapids, MI 1,017
Green Bay, WI 1,154
Indianapolis, IN 754
Jackson, MS 276
Lexington, KY 685
Little Rock, AR 573
Louisville, KY 658
Memphis, TN 489
Milwaukee, WI 1,038
Minneapolis, MN 1,221
Nashville, TN 450
New Orleans, LA 214
Oklahoma City, OK 849
St. Louis, MO 632