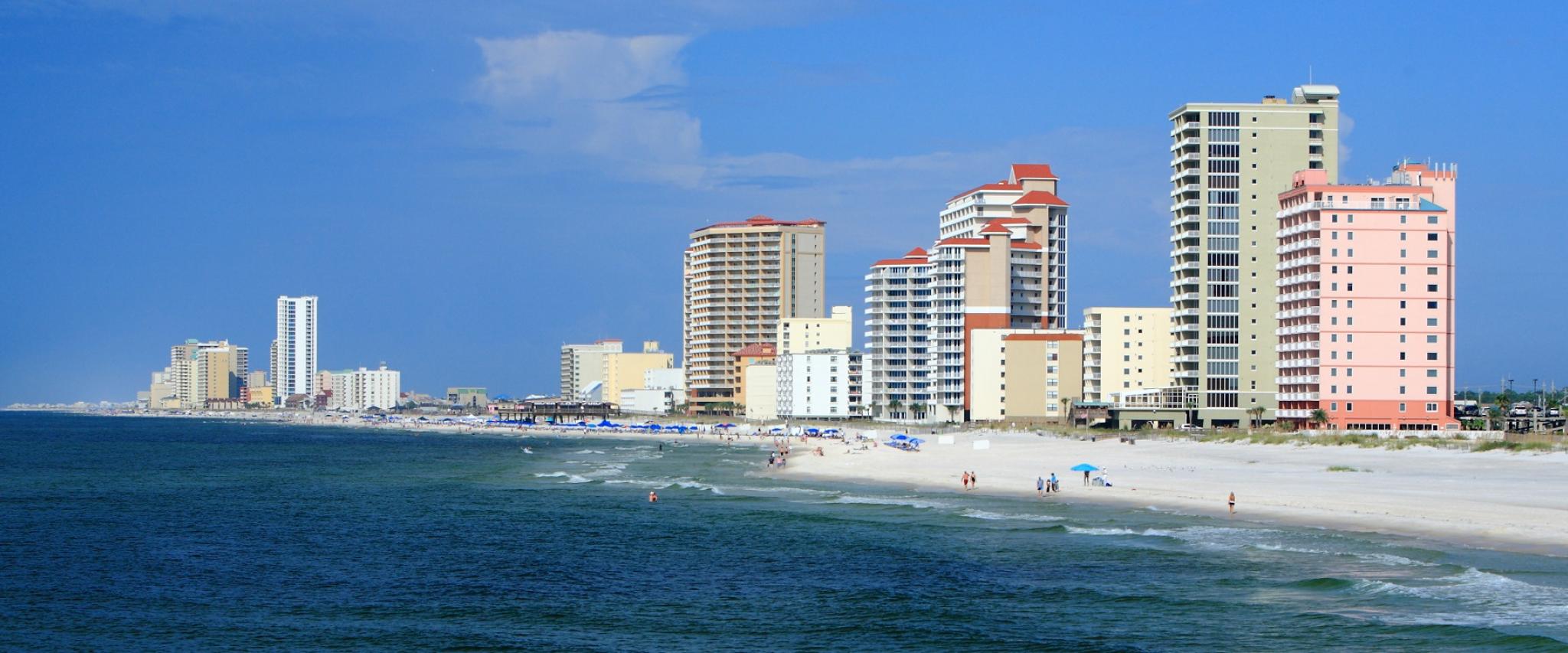 Destination Overview
Gulf Shores & Orange Beach

Name
Gulf Shores & Orange Beach Tourism promotes the cities of Gulf Shores and Orange Beach in addition to the unincorporated area of Fort Morgan.
Description
Our 32 miles of sugar-white beaches stretch along a 27,000-acre island on the northernmost coast of the Gulf of Mexico. Turquoise waters and and dunes covered in sea oats are the norm on the coast while inland areas feature live oaks and pines. Freshwater lakes, rivers, bayous and coves add nearly 400,000 acres of protected water to the area.
Within this picturesque setting, the city of Gulf Shores spans approximately 30 square miles while the city of Orange Beach covers about 13 square miles.
As previously stated, our family-oriented destination spans several cities and areas. The following figures indicate how many miles of beachfront are in each location:
Gulf Shores: 8 miles
Orange Beach: 8 miles
Fort Morgan: 14 miles
Gulf State Park: 2 miles
Total: 32 miles of beachfront
Location
We are located at the southernmost tip of Alabama between Mobile, Ala. (50 miles to the northwest in Mobile County) and Pensacola, Fla. (35 miles to the east in Escambia County). Easily accessible from Interstates 65 and 10 in addition to the Beach Express, our geographical borders include the Intracoastal Waterway to the north, the Gulf of Mexico to the south, Mobile Bay to the west and Perdido Bay to the east.
Approximate Mileage from Other Cities
Atlanta, GA: 370
Baton Rouge, LA: 252
Birmingham, AL: 274
Chicago, IL: 937
Houston, TX: 518
Huntsville, AL: 369
Indianapolis, IN: 754
Jackson, MS: 276
Little Rock, AR: 573
Louisville, KY: 658
Memphis, TN: 489
Nashville, TN: 450
New Orleans, LA: 214
St. Louis, MO: 632
Climate
Alabama's beaches offer a pleasant climate with warm summers and mild winters. Sandcastles do not freeze with an average winter temperature in the high 50s while our sugar-white sand (and surrounding areas) averages mid 90s in the summer.
Airports
Population
According to the 2017 Annual Estimate of Incorporated Places published by the United States Census Bureau, the city of Gulf Shores had 11,809 residents while Orange Beach had 6,029. The 2017 estimate also indicates that Baldwin County had 212,628 residents, ranking it as the sixth most populated county in the state.
Lodging
With more than 17,000 units available along the Alabama Gulf Coast, we are certain to have the perfect room with a view for you. A vast majority of our inventory is condominium units (14,647 units), with some handled by local rental management companies and others rented by individual owners. The area also boasts a diverse selection of beach houses ranging from quaint one-bedroom cottages to expansive homes that sleep 40 and 2,456 hotel rooms representing national chains and boutique properties. Rounding out the lodging availability are the area's selection of campground and RV parks and a few charming bed and breakfast properties.
To search the area's lodging inventory, visit GulfShores.com/Lodging. For the latest accommodations inventory data, go to GSOB.Partners/Resources/Statistics.aspx.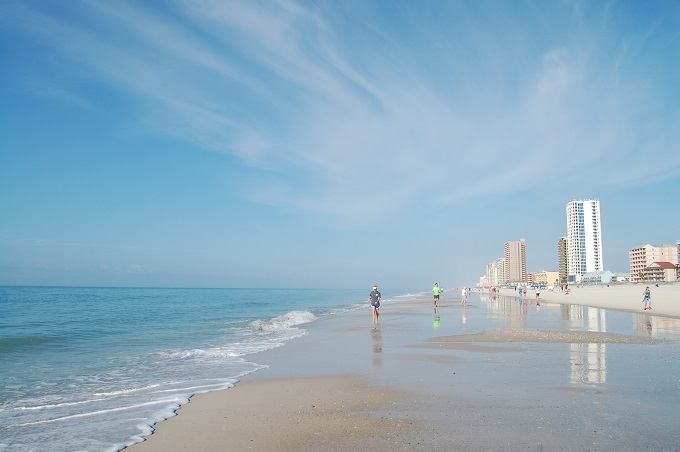 Statistics
Gulf Shores & Orange Beach Tourism maintains a comprehensive selection of statistics and research to assist you. Visit GSOB.Partners/Resources/Statistics.aspx for details. 
Visitor Demographics
Visitors to the Gulf Shores and Orange Beach area share a variety of common characteristics. As a family-oriented destination, our primary audience of guests is families. The area also has many thriving niche markets: golf, fishing, sports, girlfriend getaways, guys getaways, outdoor adventure (nature, birding, watersports, etc.), history, music, festivals/events and more.
Peak season for the destination is summer, but more and more guests are choosing to visit Gulf Shores and Orange Beach in the shoulder seasons thanks to mild weather, affordable rates and numerous events. Also, the area is a drive-to destination as more than 90 percent of guests arrive via personal cars. Visitors may also choose to fly into Pensacola, Fla. or Mobile, Ala., and then drive to Alabama's beaches.
Current Lodging and Retail Tax Data
For current lodging and retail tax data for the Gulf Shores, Orange Beach and Fort Morgan area, GSOB.Partners/Resources/Statistics.aspx.
2017 Baldwin County Tourism Facts:
Approximately 6.42 million people visited the area and left behind $4.44 billion in travel-related expenditures.
More than 50,000 people were employed in travel-related jobs and collected about $1.5 billion in wages.
Baldwin County generated the largest portion of the state of Alabama's lodging revenues with $22.46 million in lodging tax collections.
Note 1: The above data was gathered the Sweet Home Alabama Travel Economic Impact Report 2017. View the entire report at Tourism.Alabama.gov/Reports.
Note 2: The number of visitors in the above report differs from the comparable figure in the visitor profile for the following reasons: (1) the study focuses on the entire county while the report features the CVB's lodging tax district and (2) the study includes day trip guests while the visitor profile report focuses only on overnight guests staying in paid accommodations for 30 days or less. For a more detailed explanation, contact the CVB. Additional statistics, presentations and data are posted at GSOB.Partners/Resources/Statistics.aspx.
About the CVB
The Alabama Gulf Coast Convention & Visitors Bureau (CVB) was founded in 1993 as the official destination marketing organization for the areas of Gulf Shores, Orange Beach and Fort Morgan. Our primary responsibility is to market the Alabama Gulf Coast as a premier year-round destination. With 34 full-time and 11 part-time employees, the CVB has a $10.46 million budget, which is funded by a 2 percent lodging tax.
Legally, this organization operates as the Alabama Gulf Coast Convention and Visitors Bureau. In August 2010, the CVB completed a corporate identification process and unveiled its new (DBA) name - Gulf Shores & Orange Beach Tourism, which will help guests quickly identify the helpful services and information that solely exist to better serve them and result in a better vacation experience.
Mission
To market the Alabama Gulf Coast as a year-round destination, while stewarding a thoughtful, sustainable level of growth, thus enhancing the economy and quality of life for all residents
Vision
Will provide a leadership role in supporting and promoting the Alabama Gulf Coast as a year-round destination through a collective vision designed to provide economic prosperity and a better quality of life for residents and visitors
CVB's Accreditation
In June 2008, the Alabama Gulf Coast Convention and Visitors Bureau (CVB) became the first destination marketing organization (DMO) from the state of Alabama to be accredited by the Destination Marketing Accreditation Program (DMAP). The CVB joins a limited number of other accredited organizations throughout the nation and nearly 30 other countries.
Welcome Centers
Gulf Shores & Orange Beach Tourism operates two welcome centers where visitors can pick up information on local accommodations, attractions, restaurants and events in addition to helpful tips and directions from our hospitality and information experts.
Both welcome centers are open seven days a week from 8 a.m. to 5 p.m. The centers are closed on Thanksgiving, Christmas Eve and Christmas Day.