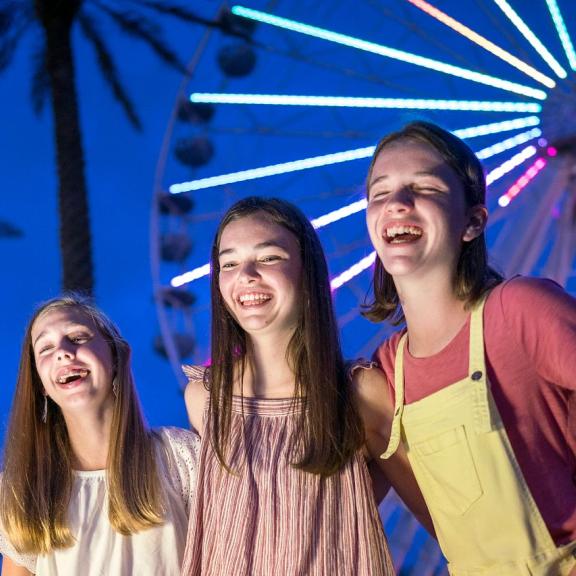 Three Fun Ways To Entertain Your Teen in Gulf Shores & Orange Beach
Turn off the electronics, and get your teen excited to be on the Alabama Gulf Coast!
June 1, 2021
Teens are tough. We get it. As parents on staff at Gulf Shores | Orange Beach Sports & Events, we can relate to kids just wanting to stare at their phones or learn the latest Tik-Tok dances throughout your entire vacation. We are here to tell you THERE IS HOPE! 
We've outlined a few teen-worthy activities below that may even score you an Instagram picture or shout-out as a "totes cool" mom and dad. Now that's rad, dude. (Cue the '90s music with that phrase.)
1. Reel Surprise Charters Family Fishing is a perfect way to enjoy the water here on the Gulf Coast. Your teen will be able to reel in a great catch and snap a selfie on this chartered boat. With customized fishing trips, it will be an adventure they'll never forget. 
2. The Wharf in Orange Beach offers the latest shopping trends with upscale boutiques and hip coffee shops. This entertainment district is a perfect place for your teen to shop, enjoy breakout rooms, and ride the brightly lit Ferris wheel. Stay into the night for an unforgettable SPECTRA Laser Light Experience that lights up Main Street.
3. Waterville USA is a 20-acre water park located in Gulf Shores. Your teen can test their limits on the 55-foot-tall slides or chill in the Cabana Cove. Help them capture great content for their Instagram feed as they learn and conquer the Flowrider, an endless wave that allows them to surf. 
Now that you know of a few activities that are teen-worthy, you can rest assured your teen will have a great time on the Alabama Gulf Coast. With exciting thrills and cool chills, there is plenty for them to do and experience.