Come to the Beach for Fourth of July Fun
June 21, 2013
Fun, food and fireworks sound like the perfect combination for the July 4 holiday. There's less than a month left to plan your Gulf Shores & Orange Beach Independence Day vacation. Make a beach vacation part of your Fourth of July traditions!
The
City of Gulf Shores will salute the nation's independence with a spectacular fireworks show over the Gulf of Mexico. The display can be seen from nearly any Gulf Shores Public Beach area. Bring your beach chairs, blankets and cooler with drinks and snacks and enjoy the show!
Kick off your holiday on the Fourth with the Shark Adventure Run at 7 a.m., a unique event where runners encounter shark people scattered along the course with the purpose of taking the 'bait' (or flags) off their belts. A post-race party will be held at Flora-Bama.
Historic Fort Morgan will hold its annual Salute to American Independence on July 4 from 10 a.m. to 3 p.m. Events include artillery firing, small arms firing, Civil War weapons demonstrations and special tours of the Fort. Admission is free for military personal and children 6 and under. Admission for children age 6 to 12 is $4, seniors are $5 and adults are $7.
On July 5, the Perdido Beach Resort is keeping the holiday festivities going with its annual Independence Day Celebration and Barbecue Buffet on the beach at the resort. The Wannabeatles, a Grammy-nominated band, will perform live and there will be a fireworks display on the beach. Tickets should be purchased in advance.
If you're not ready for the fun to be over, head to The Wharf Amphitheater where the legendary county music band, Alabama, will be in concert on July 5 at 8 p.m. Be sure to buy your tickets ahead of time!
For more July 4 events, take a look at the calendar, and for last-minute specials, check out the Hot Deals page. See you soon!
[caption id="attachment_874" align="aligncenter" width="300"]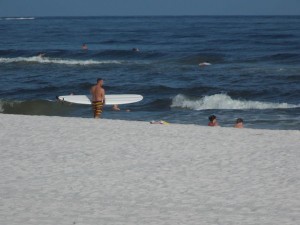 Enjoy the sun, sand and surf this Fourth of July weekend in Gulf Shores & Orange Beach.[/caption]