Reel in the King Mackerel
Part Of The What's Biting Series
March 27, 2014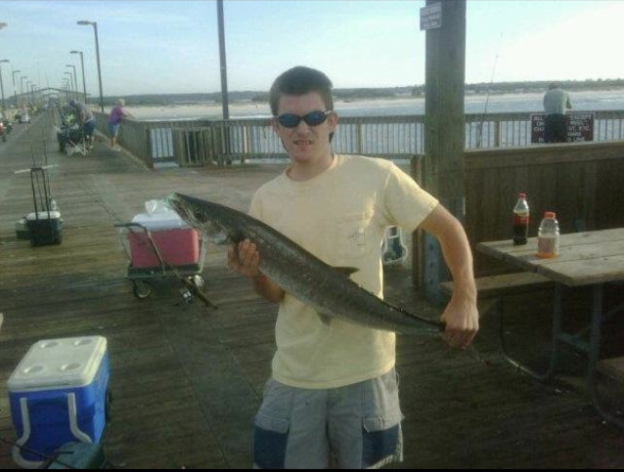 As we have written about the past few weeks, our fishing has been so close to making the transition from the winter to the spring pattern. I guess we can't be upset with our finned friends for being right on time, but being a little early would have been appreciated! Now that the calendar officially says spring, it appears the fish have finally let go of winter.
Paul Redman said when he got the news of king mackerel being caught, he knew it was time to spring ahead. "When the kings show up, that's a great indicator that our spring fishing pattern has arrived," said Redman of Mo' Fishin' tackle shop and charters. Warmer water has brought this great gamefish within reach of our local anglers.
"The Gulf State Park Pier is a great place to catch a king right now," according to Redman. Cigar minnows are always preferred by these fish known for their drag screaming runs. Just make sure to use a wire leader as their sharp teeth will easily cut through mono leaders.
If you have access to a boat, another great way to target kings is by nearshore trolling. "They seem to be holding within three miles of the beach, and trolling the classic king mackerel rig, a cigar minnow with a duster, will yield the best results," said Redman. A king mackerel bite on the troll is one of the most electrifying strikes the Gulf has to offer. Just be mindful of those teeth as you boat the fish.
King mackerel are not the only fish responding to the warmer temperatures as a few flounder are being caught at Perdido Pass. Try a Looney Jig tipped with squid or a Gulp Shrimp worked slowly along the bottom for the tasty flatfish. If bull minnows are available, a flounder will rarely pass one up.
The sheepshead bite is also hot right now. These spawning fish are being caught at the pass on fiddler crabs and live shrimp. Any type of structure seems to be holding fish, so you can catch them either on foot or in a boat. Redfish are also being caught off the jetties and in the pass, and they too enjoy both shrimp and crabs.
If you take a break from fishing this weekend, I would recommend going to visit the Boat and Yacht Show at The Wharf. In addition to more than 400 boats on display, Saturday features fishing seminars, art clinics for the kids, and a fashion show. Tickets to the show are only $7 and are available at the gate.