Homeschool Lesson: Dolphin and Nature Cruises Disguise Learning with Fun
September 26, 2014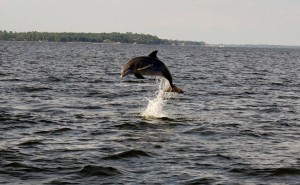 Back-to-school for homeschoolers in Gulf Shores and Orange Beach offers up an assortment of activities designed to stimulate the mind while providing a fun atmosphere for learning. One popular edu-tainment option for engaging students is an outing on
one of the many Orange Beach nature and dolphin cruises.
Whatever your interest, there is a dolphin cruise to meet your needs and budget. While some cruises motor through the Gulf waters near the shores, others take passengers into the back bays and inlets of coastal Alabama where learning opportunities can be found underwater, on the shore and in the trees. You're sure to find dolphins enjoying the warm waters, but you'll also meet alligators, bald eagles, heron, osprey, coyotes, raccoons and other wildlife during your field trip.
Several cruises providers are also certified Dolphin SMART for responsible viewing of wild dolphins. These practices minimize the risk of disrupting dolphins in their natural habitats.
A dolphin and nature cruise is an opportunity to bring the textbook to life. Enjoy the look of wonder on a young face that's just seen its first dolphin in the wild and know that these are lessons not soon forgotten. Come experience a new state of edu-tainment on Alabama's white-sand beaches.