Girls Just Wanna Have Fun on Alabama's Beaches
Gulf Shores & Orange Beach
May 27, 2021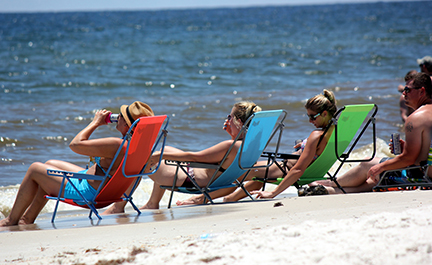 Relaxing Gulf breezes, white-sand beaches and time spent with good friends add up to the perfect recipe for a girlfriend's getaway. Gather your friends, pick a date and make your plans. The Gulf is calling, and it's time to answer to something besides busy weekday schedules that have you hopping from one activity to the next. Whether your getaway consists of time spent at the water's edge in a chair soaking up the sun and dipping your toes into the Gulf or taking in the sights of Gulf Shores and Orange Beach, we've got the perfect itinerary for you.
Check the girlfriend getaway headquarters on our website for ideas on what to do and where to stay. Put the Gulf at your feet and the wind at your back on a sailing excursion at sunset. Stroll down the beach, people watch and enjoy the warm sand and water between your toes. Work the tension from your shoulders with a day at the spa with your best girls. The Alabama Gulf Coast has a variety of stores that beckon shoppers to browse and explore the area's boutiques and outlet stores.
A weekend getaway may be just the ticket for the relaxation you so richly deserve while you reconnect with the friends who mean so much. Raise a glass to friendship and fun on the Alabama Gulf Coast.