A spotty speckled trout bite
Part Of The What's Biting Series
November 19, 2018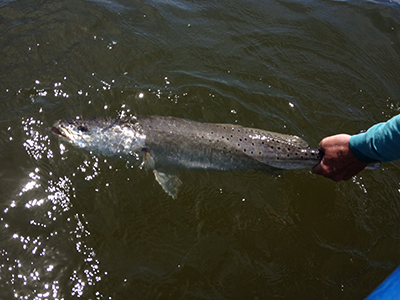 Probably the favorite and easier-to-catch species of inshore fish in Alabama waters is the speckled trout, or spotted seatrout if you're a purist.
Usually by late April, the speckled trout bite is in full swing, but 2015 has been different. Cold water temperatures delayed the schedule this year, and the trout are just now moving into a biting mood.
While inshore anglers enjoyed a great six weeks of sheepshead fishing, those fish have now scattered, which usually signals the start of the trout bite.
The good thing about speckled trout fishing is Alabama is the abundant habitat, both natural and man-made.
The good thing about speckled trout fishing is Alabama is the abundant habitat, both natural and man-made.
Alabama is blessed with artificial reefs. The offshore reef system that holds countless red snapper and other reef fish is unparalleled in the nation. Now the Alabama Marine Resources Division has been working to make artificial reefs a priority for inshore anglers.
"Our inshore artificial reef program and other habitat protections we've done have helped our fishing for trout, redfish, and other species that like to hang around structure, whether concrete or oyster shells," said Chris Blankenship, Marine Resources Director. "Plus, we closed some areas in north Mobile Bay to shrimping, and Grand Bay is closed to trawling. I think things like that really give those smaller fish sanctuary and help with the shrimp production. That allows those fish to have plenty to eat and facilitates great growth."
Of course, when production is high in those traditional areas, the abundance of shrimp spreads all along the Alabama Gulf Coast and keeps the trout fishery especially robust.
Baldwin County inshore fishermen have a variety of reefs to choose from when targeting speckled trout. In the Orange Beach area, there are four inshore reefs – Rockpile, Ross Point, Bayou St. John and Ono Island. Anglers who prefer to put in at Fort Morgan can quickly hit the Fort Morgan Barge or head into Bon Secour Bay to try the Shellbank Reef, Fish River Reef or Bayou Cour Reef. There are also several legacy gas structures that can hold fish. Go to Outdoor Alabama for a complete listing or inshore reefs.
When the trout first start biting in the spring, many times they'll hang around the reefs and take artificial baits like minnow-imitation grubs on quarter-ounce jigheads or hard baits like MirroLures. The MirroDines have been especially productive lately. Of course, any inshore angler should have a shrimp imitation lure like a Vudu Shrimp or DOA Shrimp tied underneath a popping cork. At times, that's what the trout want and nothing else.
While the trout are on artificial bait, it's best to keep throwing it. At some point, the trout will start to get finicky and will be hard to catch on anything but live bait.
For the diehard live-bait anglers, availability of bait has been limited lately. The good news is the traditional bait areas for shrimping are starting to produce. The croakers that tend to catch the larger fish are still too small right now.
But, it won't be long before those croakers become the go-to bait and, hopefully, Alabama will match last year's outstanding fishing for "gator" trout when numerous fish in the seven- and eight-pound range were landed.
For those of us who need to lose a little weight, one way to quickly prepare speckled trout fillets without frying them is to rinse the fillets well and then pat dry with a paper towel. Sprinkle lemon-pepper seasoning on the fillets and pop them into the microwave for two to three minutes. Check the fillet to make sure it flakes well, and you have a low-fat, nutritious entrée in short order.