Three Exciting Ways to Experience a Slice of Gulf Coast History
Explore a battleship, wander through a famous fort or sit in the cockpit of a jet as you experience history along the Gulf Coast. Like the poem "Paul Revere's Ride" by Longfellow, you can discover history like this: 
October 28, 2018
"One if by land"
The Mobile Bay Civil War Trail stretches from the Gulf of Mexico to north Mobile County and includes stops at Fort Morgan, Fort Gaines and Historic Blakeley State Park. There are also stops at the Magee Farm in Kushla, Alabama, where the Ceasefire was signed that ended the Civil War.
At Fort Morgan in Gulf Shores, you'll discover the fort that stood the test of time from 1819 until today. It played a major role in the Battle of Mobile Bay and was also used periodically during the Spanish American War, World War I and World War II.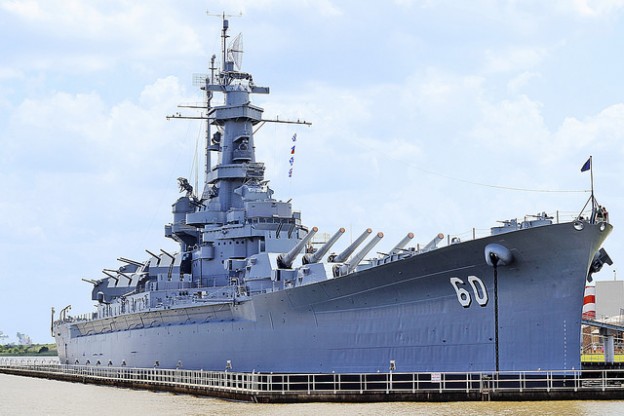 "Two if by sea"
Journey west toward Mobile Bay and board the USS Alabama Battleship for an afternoon filled with history and courageous tales. The Mighty A, as the USS Alabama was known, received nine World War II battle stars and saw action in both the Atlantic and Pacific. The USS Alabama led the American fleet into Tokyo Bay after the signing of the surrender documents that ended World War II.
Also part of the USS Alabama Battleship Memorial Park is the USS Drum, America's oldest Gato Class U.S. submarine on public display. Visitors can go below decks to see the living conditions of U.S. Navy submariners. The park is also home to various military aircraft and includes Korean War and Vietnam memorials.
"Three if by air"
If aircraft had been available in the Revolutionary War, Longfellow would have surely added another lantern for Paul Revere. The National Museum of Naval Aviation takes your imagination and your knowledge of our nation's aviation history to new heights. Climb in cockpits to get a pilot's perspective or go aboard the aircraft carrier simulator to experience working on a flight deck. Journey back in time through the history of our nation and see how far we've come from the early days of aviation to the Space Age. Go on a Tuesday or Wednesday during late spring and early summer and catch a practice show from the Blue Angels, the Navy's precision flying team. Dates vary for the practice shows, so be sure to check online.