Frank Brown International Songwriters' Festival Hits High Notes
September 11, 2015
Hear music from Grammy-award winning songwriters and up-and-coming talent during the 31st Annual Frank Brown International Songwriters' Festival Nov. 5 to 15 in venues from Pensacola to Perdido Bay to Gulf Shores and Orange Beach.
The festival is dedicated to Frank Brown, the night watchman at the Flora-Bama for 28 years. He retired at age 91; however, his moral values, character and integrity still endure today. The late radio personality Paul Harvey featured him in one of his "The Rest of the Story" segments.
You can get the rest of the story behind the songs from songwriters who range from the famous to the will-be-famous. More than 200 songwriters will perform in every kind of venue. You should be able to find the experience you want, whether it's a listening-room experience, music and dinner venue, family-friendly location or a gritty roadhouse. Many of the venues offer free admission, although some have a small cover charge.
Get up clo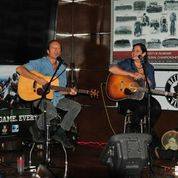 se and personal with songwriters who share their talent and their time with listeners during this unique festival. In this case, hearing is believing. Check our website for the latest Gulf Shores condo and Orange Beach hotel specials.