What's Biting: Mackerel on the Beach
August 19, 2019
With the height of tourist season approaching, there are quite a few visitors from interior areas who aren't comfortable fishing unless they're within sight of land. That's what makes slow-trolling for Spanish mackerel and small king mackerel such an attractive option this time of year.
Some visitors will haul boats to the Gulf for vacation, and trolling for small kings and Spanish is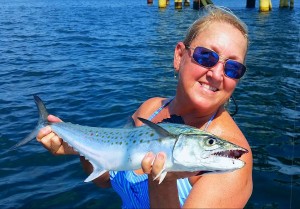 the perfect use of those vessels. Make sure the boat is seaworthy and check the weather. I would advise going to the boat store, or sporting goods retailers and purchase rod holders if you don't have them. It usually makes the fishing trip more enjoyable when anglers don't have to hold the rods and reels while the baits are deployed. If you don't have your own boat, there are a variety of charter opportunities from a single angler to a half-dozen on what we call six-pack boats down here. Several methods have proven successful in the quest to catch mackerel, including straight trolling at seven to 10 knots. Spoons, Halco or Clark, are very popular and can bring in plenty of fish. Deploy the spoons in an array that has the spoons fluttering at different depths from just below the surface to 5 or 6 feet deep. To keep the spoons down, you will probably need a planer with a lengthy leader. Some people will use a small, braided steel leader while others prefer to stick with monofilament in the 25- to 30-pound test range. Use quality black swivels (fish will sometimes hit gold-colored swivels, cutting the line) to keep the lines from twisting. Remember to stagger the distance behind the boat when the lures are deployed to keep the lines from tangling, especially when you're making a turn. Large crankbaits can also be trolled, although you need to back off on the throttle a little to keep the baits in the strike zone. Sometimes the fish will get a little finicky and want something more than just a flash. That means a variety of natural baits, both live and frozen. The best bet is live bait if you can get it. Hardtails (blue runners), finger mullet or menhaden will work. Fresh frozen cigar minnows or ribbonfish (silver eels) with a duster work better than almost anything at times. When you're using real bait, a boat technique that can be successful is to drift with the wind and bump the motor in and out of gear. The bait will rise when the boat is in gear. When the motor is in neutral, the bait will slowly sink. A wide variety of fish prefer to strike when the bait is falling. The Gulf Shores and Orange Beach area is blessed with a number of tackle and bait shops that will be able to outfit any angler with a variety of options for mackerel fishing. Those friendly folks will help you choose the correct planers and spoons, as well as terminal tackle like swivels and leader material. For Spanish, most of the time, a 25-pound-test monofilament or fluorocarbon leader is all you'll need. If you happen across a few king mackerel, you may have to switch out to wire leader. Sometimes it's hard to tell the difference between a small king mackerel and a mature Spanish mackerel. The easiest way to tell is to raise the dorsal (top) fin. If it's all gray, it's a king. If it is dark, almost black near the long spine, it's a Spanish. The king mackerel daily limit is two per person with a 24-inch fork length minimum. The daily creel limit on Spanish mackerel is 15 per person (check for updates to limit size) with no size limit, but only keep what you can cook while fresh. Mackerel are somewhat oily fish and don't freeze well. Catch 'em and cook 'em. Many restaurants in the area have hook and cook specials, where you hook the fish and they cook them any way you like.