Five Beach Breakfasts to Start Your Day
You've heard it since you were a kid, and some things never change. Breakfast is still the most important meal of the day, even when you're on vacation.
August 6, 2020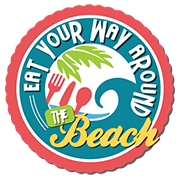 How else will you keep your energy up for all the fun in the sun? If you're looking for a delish beach breakfast, we have a few suggestions for you.
1.    Farmer's Omelet. If you love a breakfast that has everything but the kitchen sink, then wake up to the Farmer's Omelet at Tacky Jacks. It's packed with potatoes, onions, green peppers, mushrooms, sausage, ham, American cheese, cheddar cheese and, of course, eggs!
2.    Soft Shell Crab Benedict. Rise and dine at Brick & Spoon in Orange Beach for a breakfast and brunch menu that makes it hard to choose. Travel & Leisure named Brick & Spoon as one of the top 10 breakfasts in the U.S. Find out why with the Soft Shell Crab Benedict, a cornmeal-dusted soft shell crab, Canadian bacon, poached eggs and housemade hollandaise on an English muffin.
3.    Kountry Breakfast. If you're craving down-home, country cooking, you'll get your fill at Kitty's Kafe in Gulf Shores. Pull up a chair to a boneless pork chop or hamburger steak, two eggs, grits, a biscuit and gravy.
4.    Beignets. If your breakfast appetite calls for sweets, order up piping hot beignets at Café Beignet in Gulf Shores or Orange Beach. These delectable treats are airy and fluffy and covered in powdered sugar.
5.    Mozzarella, Tomato & Basil Breakfast. Order up a specialty coffee to go along with this energizing breakfast at The Southern Grind Coffee House in Orange Beach. The Southern Grind offers a cozy coastal setting for your morning wake-up.
There are plenty more spots to create a fabulous start to your day in Gulf Shores and Orange Beach. Check the Eat Your Way Around the Beach Fan Favorites, and then let us know your favorite spot for a beach breakfast in the comment section below.