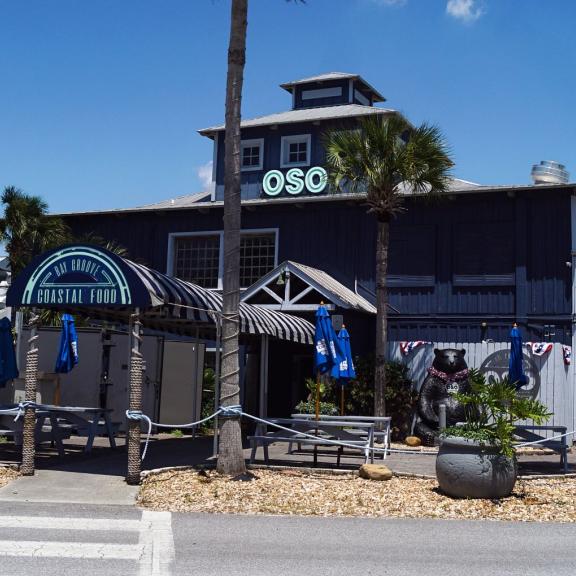 12 Restaurants Locals Love
In Gulf Shores & Orange Beach
Watch Now
Want to dine like a local? Our destination offers a variety of great restaurants that locals love
2. Fish River Grill #3
With nearby Fairhope and Foley locations, Fish River Grill in Gulf Shores is the restaurant's third establishment. Hailed as the original seafood restaurant of Baldwin County and a self-proclaimed funky junky redneck joint, they're famous for their Cajun gator bites, burgers, and swamp soup. Their unique menu and atmosphere make them a one-of-a-kind spot for authentic southern seafood. 
4. Moe's Original Bar B Que
Finger-licking barbecue is essential to Alabama cuisine, and Moe's Original Bar B Que is a favorite among residents throughout the state. This relaxing spot serves up incredible barbecue, soul food, and daily specials featuring southern staples. Dine outside at the picnic tables and enjoy your meal in the coastal air. Don't forget to add a Moe's bushwacker to your order!
6. Kitty's Kafe
There's nothing quite like a savory southern meal, and Kitty's Kafe is the perfect place for local cuisine. You'll find omelets, chicken and dumplings, and sandwiches on the menu. Kitty's offers daily breakfast, lunch, and early-bird dinner specials with a casual, family-friendly atmosphere. It's conveniently located in Pelican Place shopping and entertainment center, so you can swing by while running errands or if you're in the mood for a country-style meal.
8. OSO at Bear Point Harbor
A relaxing atmosphere, panoramic views, live music, and a diverse menu are what you'll find at OSO at Bear Point Harbor. Nestled in Bear Point, a small community in Orange Beach, OSO has quickly become a favorite watering hole and eatery for locals. Come by boat, car, or golf cart to savor their delicious dishes and enjoy the best sunset on the island.
10. Big Fish Restaurant & Bar
Every now and again, our locals feel like getting a bit fancy. Big Fish Restaurant in Orange Beach offers an elegant yet relaxed ambiance and exemplary cuisine. Open for dinner only, this restaurant has a robust menu filled with fresh seafood dishes, sushi, steaks, and more.
12. Bon Temps Po'boys & Specialty Meats
The name says it all at Bon Temps Po'boys & Specialty Meats in Orange Beach. This place offers various po'boys and sandwiches and Cajun favorites like boudin balls, crawfish pies, and chicken cracklins. Bon Temps also has daily lunch specials, perfect for filling up on good eats before hitting the water.
Ready to dine like a local? Check out all the amazing restaurants in the area and plan a trip to the Alabama Gulf Coast.