Discover Birding on Alabama's Beaches
September 8, 2016
The saying "birds of a feather flock together" has never been truer than during the fall on the Alabama Gulf Coast. Gulf Shores and Orange Beach provide a major stopover for migratory birds from all over North America. The area is a birding paradise for experienced bird watchers, as well as visitors who want to learn more.
The Alabama Coastal Birding Trail features more than 50 birding sites in Baldwin and Mobile counties. The birding population is celebrated each year during the 14th Annual John L. Borom Alabama Coastal BirdFest, a birding and nature festival. This year's event will be held Oct. 4 to 7 and will feature workshops at 5 Rivers Delta Center on hummingbirds, nature photography and the basics of birding. There will be hands-on activities for kids of all ages, including live raptors, a touch tank and exhibits from conservation organizations, plus a birdhouse build, vendors and artists. A Bird and Conservation Expo will be offered at Alabama Coastal Community College, as well.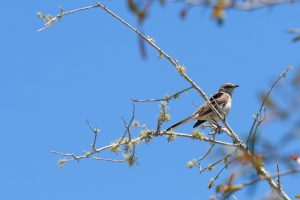 There will be numerous opportunities to put your birdwatching into action. Sessions will be held at the Bon Secour National Wildlife Refuge in Gulf Shores and Blakeley Island Mud Ponds. Boating tours include an eco-tour of the Mobile-Tensaw Delta with
local nature expert and guide Jimbo Meador on his custom-built watercraft. The boat is built to maneuver the shallow waters of the bay and tributaries with a
high-speed but quiet motor. Learn about Mobile Bay's history and ecology. A Delta Discovery Tour will give you a true view of the
"American Amazon" as you visit the marshlands and cypress and tupelo
swamps. Afterward, walk the boardwalks through a bottomland hardwood swamp.
If you miss the annual BirdFest, there's still plenty of opportunities for birdwatching on your own on the Alabama Gulf Coast. Find a detailed list of trails along the Alabama Coastal Birding Trail online and bring your binoculars on your next beach vacation.