Gulf Coast Chefs Serve Up Lionfish with NUISANCE Group
September 30, 2016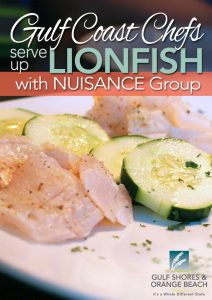 You may find a few interesting choices available at some Gulf Shores and Orange Beach restaurants. In addition to selections of grouper or red snapper, lionfish may pique your interest and tempt your taste buds. You've probably heard of lionfish as an invasive species in the Gulf of Mexico and not as an entrée at your favorite beach restaurant. But thanks to the NUISANCE Group, you may start seeing this fish and many others more and more at local restaurants.
The NUISANCE Group was formed in May 2015 by a team committed to raising awareness of Gulf Coast flora and fauna considered to be a Nuisance, Underutilized, and/or an Invasive species that is also Sustainable and Available through Noble Culinary Endeavors. It's a long way to say this group puts "trash fish" and other nontraditional, potential foods to use, showing people that they can eat these species and that they are actually delicious!
The lionfish is only one of the species the NUISANCE Group utilizes in its culinary efforts. The invasive fish was introduced into the Gulf in the 1980s. It's believed that a handful of aquarium owners discarded their lionfish, leading to the problem we have today. You generally see lionfish in aquariums, but they are a major threat to the ecosystem on the Gulf Coast. Their population has grown quickly over the last several years, feeding off the same prey as fish like red snapper and grouper, and leaving much less for other species to consume. They also don't have any predators and are taking over the reef systems in the Gulf.
Other fish the NUISANCE Group utilizes include hog snapper, tiger shrimp, red porgy and even stingrays. They don't just come fried up on a seafood platter, either. Award-winning chefs such as Chris Sherrill at the Flora-Bama Yacht Club serves lionfish ceviche, as well as sashimi-style and even frying them whole. Where else can you find these and other underutilized fish on the menu? Try Voyagers at Perdido Beach Resort and Coast Restaurant at The Beach Club.
For more information on the NUISANCE Group and where you can find these culinary creations, join their group on Facebook.