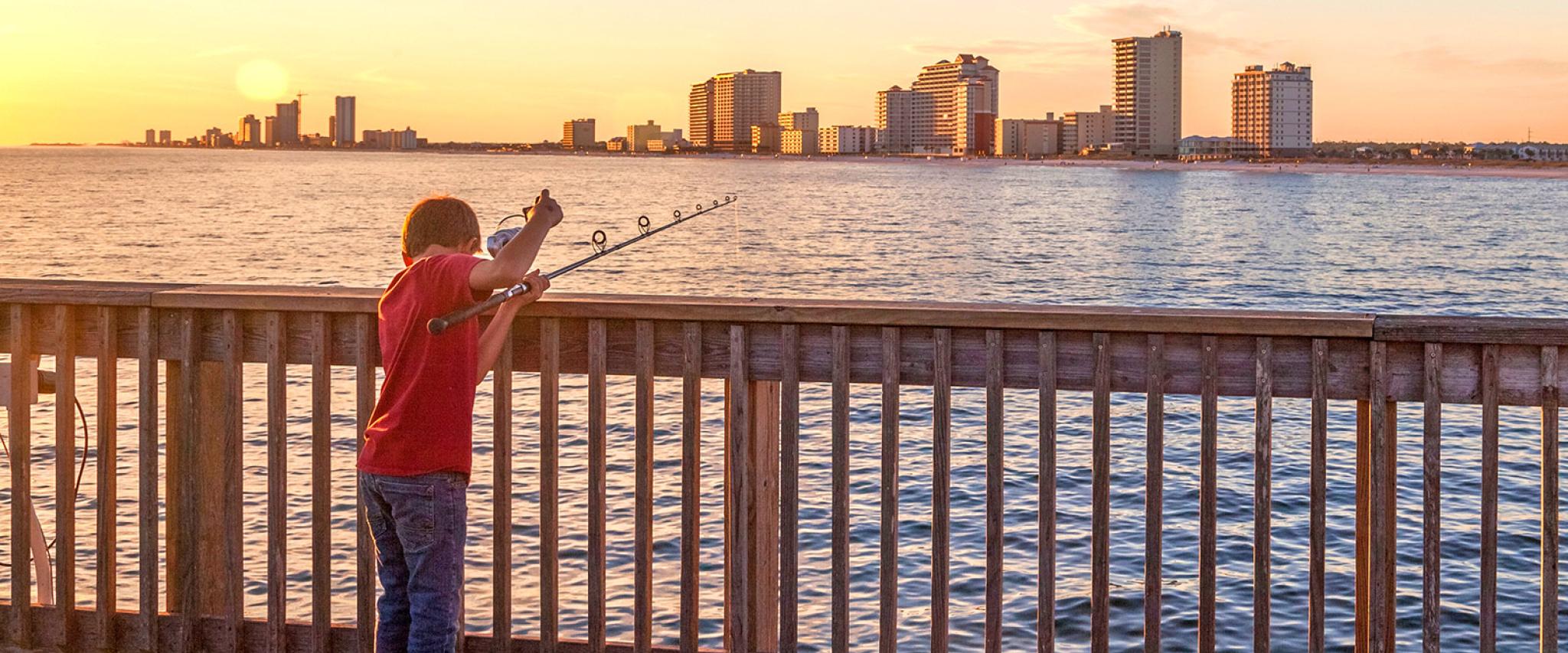 Fall Pier Fishing
July 27, 2020
The temperature earlier this week dipped to a delightful 59 degrees on the beautiful Alabama Gulf Coast, which means the fall fishing bonanza on the Gulf State Park Pier is underway
Dustin Hayes of Top Gun Tackle, which has an outlet on the pier, said anglers have been stacked up at his counter. They are buying bait and tackle to take advantage of the great fishing opportunity that happens when temperatures start to cool.
Hayes said the fishing has provided great variety recently, kind of like Forrest Gump's box of chocolates. In the deeper water near the end of the 1,540-foot pier, there will be a heavy king mackerel bite one day. The next day, a big school of bull redfish will cruise past the pier. The Spanish mackerel bite has also been consistently good lately.
"They've been catching some kings on cigar minnows and alewives lately," Hayes said. "The Spanish are being caught on Gotcha plugs and bubble rigs. When the schools of redfish come through, they'll hit just about anything."
For those who prefer to fish in the water that is not as deep, there's been lots of action near the shore as well. The inshore species are biting live shrimp, bull minnows, sand fleas and bits of dead shrimp.
"The shallow guys are catching pompano, whiting, redfish, speckled trout and flounder," Hayes said. "I mean, they're catching just about everything right now – Spanish, kings, flounder and plenty of pompano. Every day another group of fish will come through."
"And this is just the start of the fall fishing. The cool nights should keep them biting for a while. The cooler it gets, the better it will be."
The fall weather brings is an abundance of alewives that congregate near the pier and provide anglers with a ready supply of live bait. Tackle shops offer ribbon strips of various sizes to take advantage of catching your own bait. The Spanish prefer alewives that are up to about 3 inches long that is dangled under some type of bubble rig or other floating rig.
While some anglers will use heavy tackle for fishing on the pier, the most fun way to fish is to use tackle that would suitable for bass fishing. Just make sure you have a reel that will hold 150 yards of 12-pound test line, and that smaller tackle will be much easier for those who aren't regular pier anglers to use. Sometimes the anglers with the mid-size tackle will catch just as many and sometimes more fish than the large-tackle crowd.
Fishing and pier licenses are required on Gulf State Park Pier.
"And this is just the start of the fall fishing. The cool nights should keep them biting for a while. The cooler it gets, the better it will be."