Your Guide to a Girlfriend Getaway in Gulf Shores and Orange Beach
It's always nice to vacation with the family. But if you really want to relax, you know a girlfriend getaway is the best escape – especially when it's to a place as beautiful as Gulf Shores and Orange Beach, Alabama.
December 17, 2018
The beaches of Alabama are still a great secret to many in the Southeast, where Florida's shores often get top billing. But that's a good thing for you, because those beaches to the east can get pretty packed. When you have precious little time to get away without the kids, spacious beaches offer the perfect spot for rest and relaxation.
There are plenty of places to rent in Gulf Shores and Orange Beach, from condos with walls of windows offering up views of both sunrise and sunset from the balcony, to houses with multiple bedrooms on the bay. Find a beach vacation rental in the lodging directory.
You don't have to fix a meal for anyone your entire stay. The dining options are delicious, from the upscale Fisher's at Orange Beach Marina to the funky and fab scene of The Gulf. It's hard not to order seafood the entire time you're at the beach, but the drinks are just as delectable, and heck, when you're away with the girls, why not partake in a few? I personally recommend the Double Nipple at Fisher's (it's a combo of pina colada and strawberry margarita) and the Surf's Up at The Gulf (coconut rum always wins with me).
Gulf Shores and Orange Beach are great options for the gals who want to try a little bit of everything on their break, or absolutely nothing at all. You can choose to put your bum in the sand for days and days, reading magazines and books without interruption from the small ones . . . or you can pour yourself into the active options, rowing away on a kayaking trip through the bay with the dolphin and egrets in the Bon Secour National Wildlife Refuge. Follow that up with a massage down Fort Morgan Road at The Spa at The Beach Club. Heck, you can even try a drop-in session of yoga on the beach if you really want to seek out some Zen time. Want to get really wild? Book a parasailing trip with one of the companies cruising back and forth on the water. It definitely gives you a different perspective when you're flying high, then being dipped into the water and back up again.
After a couple days with just the girls, refilling your heart and soul with some quality "you" time, worrying about nothing more than tan lines and catching up on what's happening in each other's lives, it's much easier to go home to the family feeling re-energized and ready to take care of everyone else again.
Still not sold on the idea of escaping to Gulf Shores? Watch this video and you will be.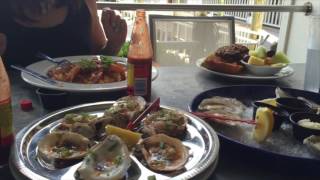 Gulf Shores and Orange Beach, Alabama, Offer Much More Than Beaches