Coastal Cooking: Chef Bart's Pimento Cheese
Part of the Coastal Cuisine Series
October 18, 2018
Childhood dinners and family gatherings are what drives Chef Bart Wilson at Luna's Eat & Drink in Orange Beach. If you've experienced a meal at Luna's, you can feel the homegrown culinary love in each southern specialty coming from the kitchen.
"We put our heart and soul into the food here at Luna's," said Wilson. "We do everything we can from scratch." Wilson say Luna's pays homage to working class food that many across the southern plains grew up enjoying.
"We try to put new twists on traditional dishes and share dishes you don't see prepared much anymore - grillades and grits, rabbit and dumplings, collard greens, adobo chicken, cast iron skillet mac and cheese," he said. "Luna's is a tribute to the south's culinary tradition and to soul food around the globe."
When you're not vacationing in Gulf Shores or Orange Beach, mix up one of Chef Bart's staples at Luna's – Pimento Cheese. "It's versatile and delicious. You can use it as a dip with chips, pork skins or pickles or put it on a burger or sandwich. At Luna's, we put it in our hushpuppies, and it's outstanding," Wilson said.  
Luna's Eat & Drink Pimento Cheese
Type:
Use as a dip or spread
Prep:
Less than 10 minutes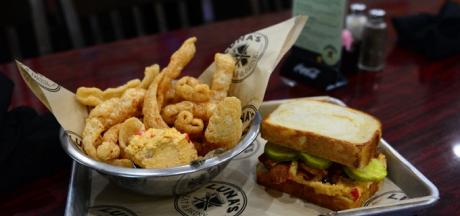 Ingredients
2 ½ pounds shredded cheddar
¾ pound cream cheese
1 ½ cup mayo
​​​​​½ tablespoon garlic powder
½ tablespoon onion powder
¾ cup roasted red peppers diced
6 tablespoons minced peppadews
1 ½ tablespoons Worcestershire
1 teaspoon salt
¼ teaspoon black pepper
¼ teaspoon cayenne
Directions
Combine all ingredients.