Drunken Shrimp
A Part Of The Beach Bites Series
"This is an absolute quick no mess meal. Serve with toasted garlic bread and salad for the perfect beach meal!! You can substitute mussels, clams or other fresh shellfish in this recipe. This broth is YUMMY."
SIMPLY CAN'T WAIT? TRY Drunken Shrimp
Recipe Courtesy of Karen Nalls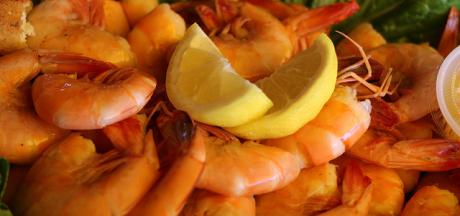 Ingredients
2 Tbs butter
4 cloves garlic minced
1/2 t red pepper flakes
1 lemon zested
2 cups white wine
black pepper
2 lbs shrimp cleaned and peeled
Directions
Melt butter, add garlic and sizzle for 30 seconds. Season with red pepper flakes and lemon zest. Cook about 1 minute. Pour in white wine and add black pepper. Bring sauce to a boil and stir in shrimp, cover and boil about 5-6 minutes until shrimp is done. Serve with lemon.