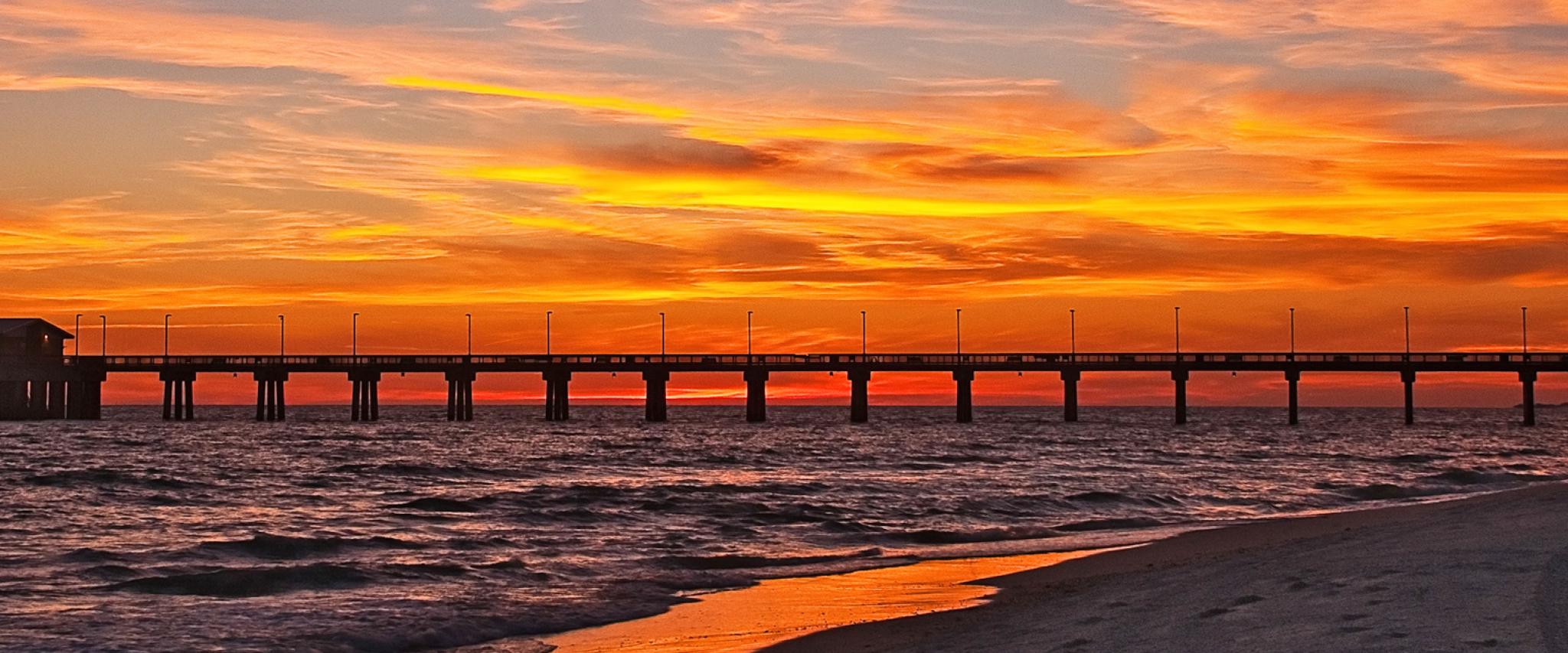 5 Fun Places to See an Alabama Gulf Coast Sunset
Gulf Shores & Orange Beach
December 1, 2020
There's nothing quite as mesmerizing as a beach sunset. Those vibrantly colored hues of red, yellow, pink and orange make you stop and take it all in. You can catch a gorgeous sunset up and down the coastline, but why limit yourself to just one sunset view. I've put together five very different ways to view an Alabama Gulf Coast sunset.
Fun Bushwacker Sunset 
Watch the setting sun from a famous beach bar, with a bushwacker in hand. The Flora-Bama is the home of the bushwacker, a milkshake-like beverage with five types of alcohol. Enjoy one as the sun sets over the Gulf to close out the day on the beach or to start off the evening.
Sunset from Gulf State Park Pier
From fall through spring, watch the sun rise and set over the Gulf of Mexico. You can get a great view from your hotel or condo with a Gulf-facing setting or on any Orange Beach or Gulf Shores beach. If you want something different, walk out on the Gulf State Park pier, the second largest pier on the Gulf, to view fish swimming by and watch the sun disappear into the Gulf. 
Historic Sunset at Fort Morgan
The beach around Fort Morgan gives you the best year-round sunset view. It sits on a peninsula at the west end of Gulf Shores, with the Gulf of Mexico on one side and Mobile Bay on the other. The Fort Morgan Historical Site often closes before sunset, but you can park your car just past the ferry and walk along the beach toward the Gulf. From there you'll enjoy amazing panoramic views with very few people around.
Enjoy the Sunset over Dinner
Enjoy dining with the sunset in the background. Many Gulf Shores and Orange Beach restaurants offer outdoor decks or large windows to view the sunset. A few to try include LuLu's, Cobalt, Coast Restaurant at The Beach Club, and my favorite: The Gulf restaurant.
Romantic Sunset Cruise
Imagine relaxing at the end of the day with a tranquil cruise that ends with a sunset. Climb aboard one of the area's boat charters for a sunset cruise to feel the breeze blowing through your hair, sail out into the Gulf, admire the coastline, and enjoy the setting sun from the water.
During the summer months, the sun actually sets over the bay behind the shoreline instead of over the Gulf. In May, I sailed with Wild Hearts on their Sunset Catamaran Cruise. The sun set behind the beach resorts. There's nothing quite like it.
Ranging from fun and quirky to serene and tranquil, these five Alabama beach sunset locations provide spectacular sunset views! On your next trip to Gulf Shores and Orange Beach, be sure to stop by, relax, and enjoy the beach sunset from one of these five great places.