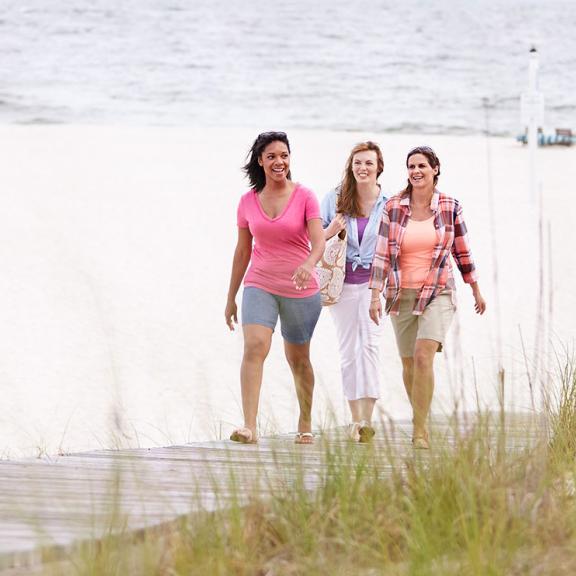 4 Critical Things To Know About a Girlfriend Getaway to the Beach
For many of us, there's nothing more relaxing than a trip to the beach. But, let's be honest. It's not always stress free when you have littles in tow. Of course, we love our family time, but if given the chance to take a girlfriend getaway to the beach, we can't pack fast enough!
August 9, 2019
What do you need to know to plan the best beach escape possible? We have four critical things to know about a girlfriend getaway to the beach.
1.  Why?
The goal of a girlfriend getaway is to decompress for a few days. Relaxation, rejuvenation, maybe even a little talk therapy amongst friends. You get to turn off from world's pressures in a way that you just can't when you're on a family vacation. As much as you adore them, it's important to get some girlfriend time every now and then. It's time where you only need to worry about yourself, and let's face it, that's a nice break from reality sometimes. You may be in the opposite situation, where your family has grown and flown from the nest. Getting that girlfriend time may help remind you who you are and get back in touch with that fun, silly side that thrived in her youth.
No matter your situation, a few things will be key in your planning and help make sure you decompress with your best girls.
2. Who?
Decide who you want to go with. Decide whether you want it to be one or two friends, or maybe more. The more the merrier is not always true when it comes to a group of gals getting together and getting away. If you're celebrating a big milestone, you may want people from all phases of your life, and you could easily end up with more than a dozen girlfriends. The "why" will often dictate the "who" joining you on your girlfriend getaway.
3. Where?
Where do you want to go? The beach is a great destination to please all kinds of personalities. You can be lazy or active. You can sit in the shade or soak up the sun. Orange Beach and Gulf Shores offer miles and miles of sand and surf to entertain girlfriends of all ages.
There's something for everyone up and down the shore. The ladies can be as social as they'd like, enjoying food and fun from Lucy Buffett's LuLu's to Fisher's at Orange Beach Marina. Sail Wild Hearts at sunset or go to Bon Secour National Wildlife Refuge on a kayaking tour with Wild Native Tours. Or, they can retreat to their own worlds, escaping with a good book on the beach if that's what makes them happiest. I personally can't think of a better place than Gulf Shores and Orange Beach if the goal is to relax.
4. How Much?
What's the budget for your beach getaway? A beachfront vacation rental can be incredibly affordable when you have a handful of people splitting the bill. There are properties to fit every budget in Orange Beach and Gulf Shores, including hotels, condos and beach houses.
The Bottom Line to Girlfriend Travel
The bottom line when it comes to beach fun for a girlfriend getaway: remember, it's about being together with friends who get you. Don't plan anything that's going to stress you out, or there will be no real escape from the realities that can make life so challenging. Enjoy the time away so when you do return home, you're the best you that you can be—for your families and for yourself!