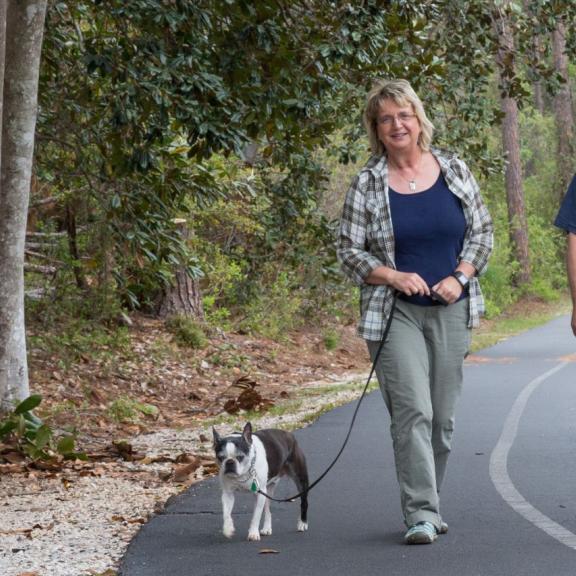 8 Best Places to Walk Your Dog
In Gulf Shores and Orange Beach
Is your dog part of the family? For many of us, that answer is yes. Or Woof, if you're a dog.
July 24, 2020
That means any family getaway isn't complete without them! But bringing your pooch on vacation isn't as simple as packing their favorite squeaker and hitting the road. If you don't plan appropriately, your pup could end up spending most of the trip stuck inside your rental. Luckily, we can make traveling to Alabama's beaches with your pet a walk in the park! (Literally.)
First, visit our pet-friendly lodging in Gulf Shores & Orange Beach to book your stay with your four-legged friend. Then, add one or all these pet-friendly places to your itinerary to be sure that Fido gets his share of fun, too. Below are eight best places to walk your dog in Gulf Shores and Orange Beach.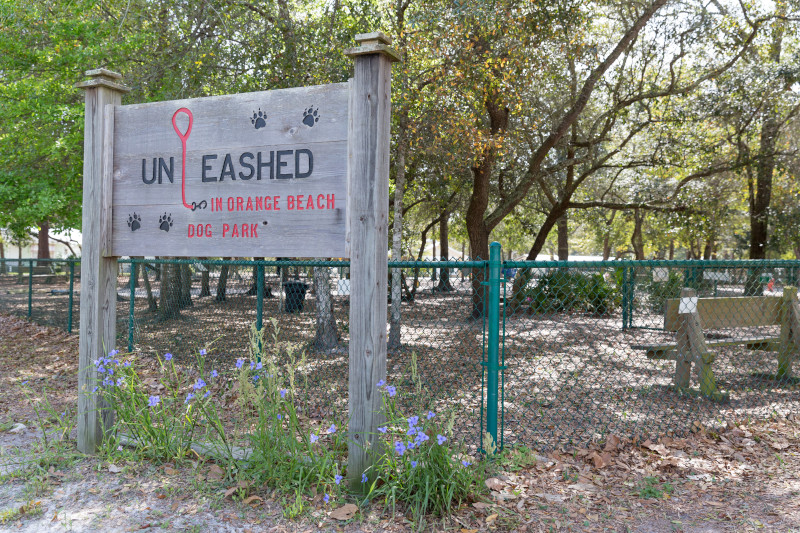 There are two places that were made for walking your dog in Gulf Shores and Orange Beach! Visit these great dog parks to introduce your pup to the locals and give them a chance to run off the leash.
Give your pup a taste of the local life at the Gulf Shores Dog Park! It offers ample space for socialization, exercise, and running out those mid-day zoomies. There are chairs where you can take a seat and watch your pup romp among the trees. There are also separate areas for small (under 25lbs) and large dogs, so you can be sure your pup will have plenty of safe room to play. 
Orange Beach's dog park is a full-scale pup paradise! It offers spacious and separate areas for small and large dogs, multiple training stations and obstacles for engaging play, communal tennis balls, and plenty of water dispensers. There are also benches and shaded areas for humans!
Even dogs love the great outdoors. Ok, maybe more than most. If your pup is a nature lover, bring them to one of these fun trails for a stimulating stroll through the area's most beautiful landscapes. We love animals of all kinds around here, so be on the lookout for fellow wildlife! 
Hugh S. Branyon Backcountry Trail
This popular attraction is a great place for a stroll for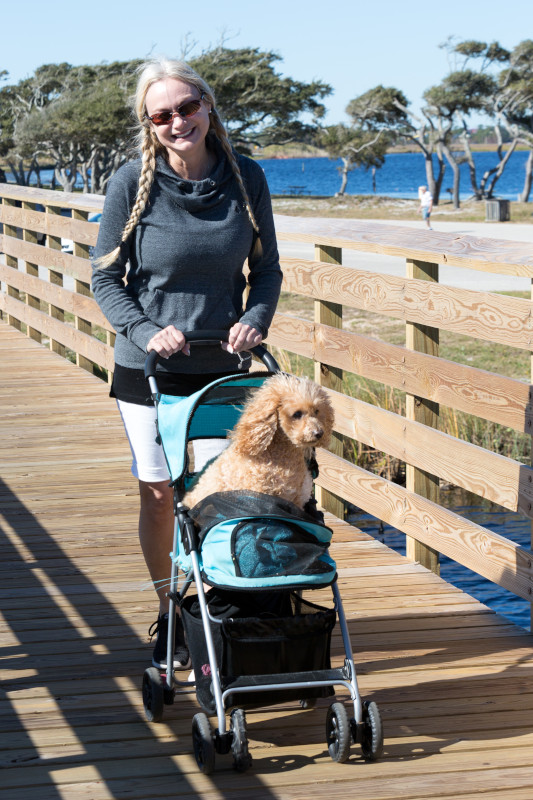 you and your dog! It boasts 15 inter-connected nature trails that span more than 27 miles through six diverse ecosystems. Your pup will have plenty to sniff and see as you make your way through swampland, freshwater marshes, and majestic forests. You're also sure to come across any number of wildlife creatures that call the trails home (but please, no chasing the squirrels).
Take your pup back in time with a visit to historic Fort Morgan. Take a self-guided tour through the century-old masonry fort to immerse yourself in American military history, and then enjoy a romp around the site's recreational areas. You and your pup can play on a large section of beach, stroll along nature trails, and enjoy an afternoon snack at the picnic area.
If you're looking for an easy scenic walk, look no further than Wade Ward Nature Park. This pedestrian boardwalk meanders over some of the most beautiful wetland scenery in the area and provides a comfortable stroll for humans and dogs alike (no worrying about tripping over roots or rocks). Otters and alligators are commonly seen in the water below and are unphased by a little friendly barking. Though we can't say the same for your fellow walkers. 
Waterfront Spots for Your Pup
What is a visit to the Gulf Coast without some waterfront action? Incomplete, that's what. As much as we love our furry friends, they aren't allowed on the public beaches in Gulf Shores or Orange Beach. But that doesn't mean they're doomed to stay dry! Bring your water-loving pup to one of these great locations for a scenic waterfront walk (or dip). 
Pirates Cove Marina & Restaurant
If your pup is the beachy sort, bring them to Pirates Cove in nearby Josephine for a chance to get some sand between their paws. This popular dive establishment offers pet-friendly beaches. Inside, fur parents enjoy American fare and world-famous bushwhackers (but only for the humans, please). Your pup will love cooling off in the spacious swimming area or playing fetch along the shore. Most prefer to get there by boat (it's a beautiful ride up Wolf Bay), but you can get there by car, too. 
The Dog Pond
The Dog Pond at Gulf State Park was made for man's best friend! It sits on the shores of Lake Shelby and offers your pup waterfront views and a host of amenities. There are plenty of obstacles for agility training, communal toys like tennis balls and hoops, and an exercise course that includes jumps, weaves, tunnels and more.  
If you have human and fur kids, the Orange Beach Waterfront Park is a great place for both! This beautiful family park includes a 400-foot fishing pier, a lighted kids park, a scenic walking path and picnic areas complete with grills and covered pavilions. Your pup will love the cool breezes coming off the water as you stroll down the paved walking path (along with all of the new smells their sniffers can handle).
Are you ready to pack up your pup and head to Gulf Shores and Orange Beach? Browse our pet-friendly vacation rentals to find the perfect place to park their paws.