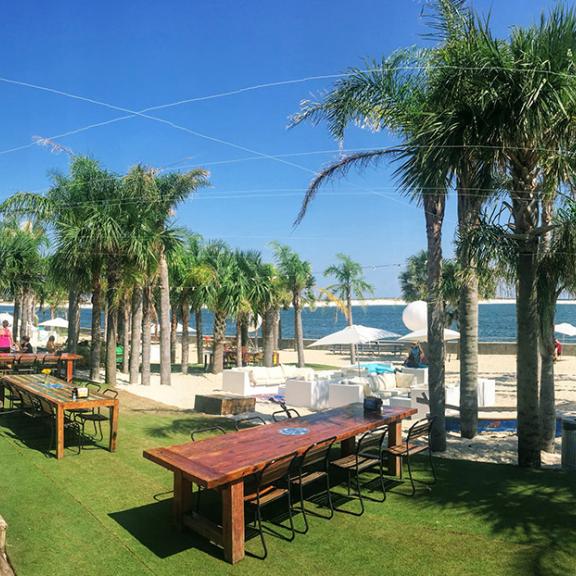 Beach Bound Brotherhood
Bring your sunscreen, trash talk, and appetite… we're in for a weekend of fishing, seafood, golf and cocktails.
April 19, 2019
My wife gets invites for ladies' beach trips every summer… I do not. Not that I want a ladies' beach trip… err, I want a guy's beach trip!
Better yet, I'd do it in the fall!
Getting the fellas together for some "us" time would be amazing. I'm thinking salty, sun-baked, and adventurous days followed up by an evening of good eats, ball games, and tasty treats! If it were my gang heading to the gulf coast, this is what I'd do with my guys…
WHEN TO GO
First, I would pick a weekend – particularly in the Fall. Crowds are smaller, weather is perfect, and the beaches are still beautiful.
FRIDAY
We arrive on a Friday afternoon and get checked into our beachside condo – the best way to enjoy a great view of the water. I prefer one on a higher floor to fully embrace the experience.
After unpacking, we roll on down to a restaurant called "The Gulf" and enjoy a great meal and drinks, fully immersed in the water-side ambiance.
Then it's off to one of the many music venues sprinkled throughout the region. We may even end up at famed Flora-Bama for some Blues and Bushwackers.
SATURDAY
Saturday morning, it's early to rise, we've got fish to catch! Deep-sea fishing on an expertly captained charter, we spend the morning taking in the salty spray, beautiful sun, and fishing sport. Depending on the time of year, different fish are "in-season" for catch, and our fishing expedition will likely be a catalyst for competitive manly banter.
After pictures with our catch and congratulatory high-fives, we get back to the condo to clean up and head out for dinner at one of the fine restaurants. I'm talking Voyagers at Perdido Beach Resort for exquisite cuisine like Ostrich Carpaccio, Lionfish Tiradito, and top it all off with a Center Cut Prime Ribeye. (Make reservations for this one)
Fellas, if that seems a little too fancy for you… we can have a multitude of options including The Crazy Cajun for creole, Hog Wild Beach & BBQ, or simply Sea & Suds(right on the water). I'm not picky, just want to show you guys a good time!
Now that we're fed, let's go take in more great music and drinks! There's small pubs galore to choose from including little local dives all the way up to the boisterous tourist destination, The Hangout. I personally think we should go for some karaoke at Tacky Jack's, but it's your call!
No matter where we go, we're going to end up back on our condo balcony to finish the night out.
SUNDAY
Sunday morning, let's go swing some sticks! There's a number of beautiful golf courses around Gulf Shores and Orange Beach. We pick Kiva Dunes for our own personal Master's. We're all shooting well over par, except for that one guy… there's always the "one guy" whose had way too much discretionary income and time on his hands, making us all look like amateurs. Which, of course, we ARE!
Maybe we should have just hit one of the putt-putt courses instead.
We golfed our round and have been humbled and humored. So now it's time to pack our things and do some food before we hit the road. I'm suggesting one of the top five best restaurants in the south, Fisher's. But if you boys want to keep it simpler, The Ruby Slipper it is!
WRAPPING UP THE WEEKEND
It's been an amazing weekend fellas. I hope you feel like we've taken in the adventures, eaten well, and played hard. But most of all, I believe we all enjoyed each other. And in this day and age, we don't make a lot of time for ourselves…we really don't.
And, if we truly want to be all we can be for our partners and families, we really need to make time to recharge, clear our minds, have candid discussions, and re-discover our brotherhood.
I hope you're inspired to start planning your Beach Bound Brotherhood trip now!