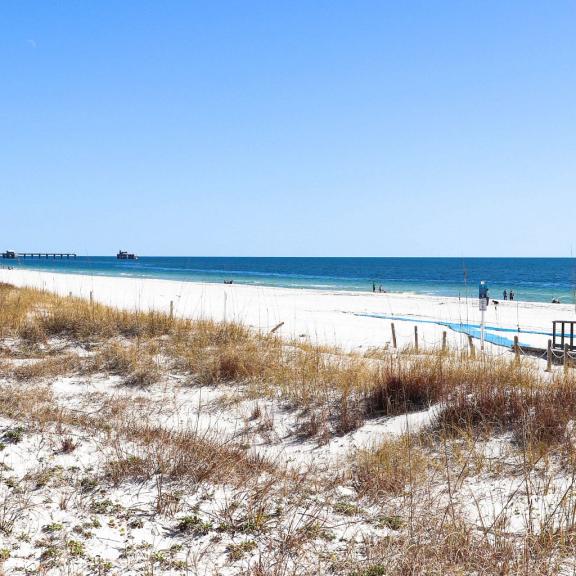 Why Plan a Beach Meeting?
Gulf Shores & Orange Beach
June 24, 2022
We could go on and on for days about why you should meet at the beach, but below are our top 10 reasons.
Of course, fresh seafood is plentiful here. But you'll also find finger-licking barbeque, decadent desserts, steaks and home-style country cookin', as well as unique beach cocktails all along the Alabama Gulf Coast. Fresh, local ingredients - straight from the Gulf of Mexico or local farms - give attendees a taste of our coastal culinary culture. And the annual food festivals frequently feature our top chefs, some of whom hold high honors such as James Beard nominations.
5. Proximity to major roadways and airports
The Alabama Gulf Coast is within an easy driving distance to many large cities, so getting to us via land is a simple task. But if flying is more your speed, most major airlines service the nearby Mobile Regional and Pensacola International Airports, with a growing selection of non-stop flights. The up-and-coming Gulf Shores International Airport is working its way to become a bigger player in getting attendees to the beach.
Gulf Shores and Orange Beach provide a number of ways to combine volunteer community service with bonding among your attendees. Schedule an afternoon for your group to remove trash and debris from the beach, pitch in for trail-building and cleanup opportunities through Gulf State Park or create enrichment items for animals at the zoo. And remember to Leave Only Footprints!
The fun never ends at the beach! Whether it's enjoying a relaxed setting to share a glass of wine, dancing to the music of local and regional bands, or having an energetic karaoke competition with your team, there truly is something for everyone in Gulf Shores and Orange Beach.
10. Our local sales team is dedicated to making your planning easier
Organizing an event is no easy task, but when you work with our dedicated sales team, your task list becomes easier to manage.
Let us assist you with all the details for your Gulf Shores and Orange Beach meetings!