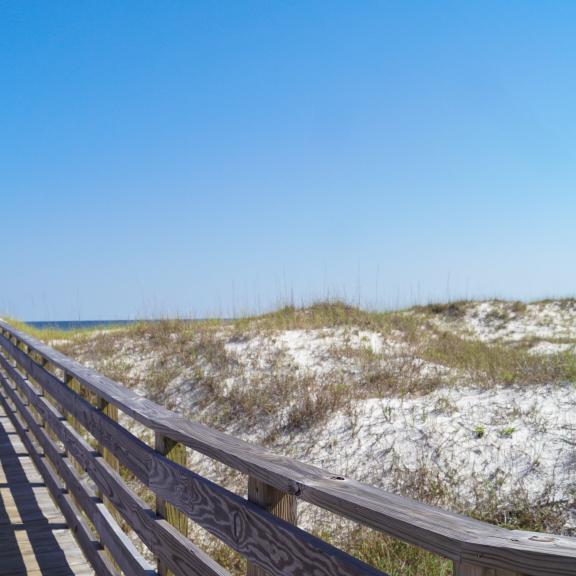 Leave Only Footprints
 Keeping Gulf Shores & Orange Beach Clean
March 9, 2022
Maybe you've seen the signs along the beaches of Gulf Shores and Orange Beach about the Leave Only Footprints initiative? They're attached to posts near garbage cans and recycling bins all along the Alabama shoreline. And while they do make it easy to throw out trash after a sunny day relaxing on the beach, they're only part of the Leave Only Footprints initiative.
The program has been a huge success! Local hotels, condos and businesses have all pitched in, promoting the program with flyers and pamphlets to educate guests. Staff and volunteers have committed to preserving the beach through several initiatives. Additionally, eco-volunteers have done an amazing job to protect the dunes and sea turtle nests. The whole community has rallied around healthy beach living, and there has been great progress.
In 2016, the area earned two noteworthy awards: The Alabama Tourism Department Partnership Award commends the successful partnership between the Leave Only Footprints initiative with the cities of Gulf Shores and Orange Beach. It recognizes the importance of the campaign on sustainability, protection of valued natural resources, and continued tourism success. The Alabama PALS Governor's Award recognizes the commitment to litter control, recycling, local cleanup efforts, environmental education and volunteerism.
How can you support the Leave Only Footprints initiative?
Don't Disturb Sea Turtle Nests
All three species of sea turtles found on our coast are on the endangered list, and any human contact with a sea turtle or its nest is extremely harmful. Disturbing sea turtles and their nests is a federal offense. If you see a sea turtle on the beach or in nearby waters, move away from it so that you don't disrupt its natural behavior. Turtles need us to stay away to survive. Other sea turtle initiatives in Gulf Shores and Orange Beach include lighting changes on the beachside of resorts and houses, removing beach gear and structures after dark, and muted lighting on flashlights. Respect the rules to help the turtles make a comeback!
Don't Dig Big Holes in the Sand. 
If you dig a hole, fill it before you leave the beach. Holes are hazardous, particularly to sea turtles and humans. Large holes also become a hazard to our first responders during rescues.
Recycle. 
The less garbage that goes into landfills, the healthier our community can be. Recycle what you can to cut down on waste.
Learn more about the Leave Only Footprints initiative and how you can help.