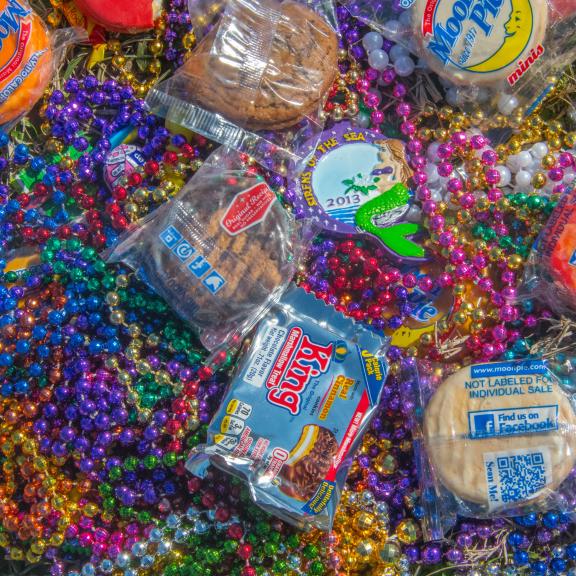 5 Foods to Enjoy During Mardi Gras
These are the MUST-TRY foods of the Mardi Gras season!
September 29, 2020
Mardi Gras is a time of celebration, parades, jazz music and, of course, FOOD! Combine all those fun things, and you get one of the South's oldest traditions. Originating in Mobile, Alabama, the actual day of Mardi Gras usually occurs in the month of February, though it may fall as late as early March. In 2023, the season's final day of revelry (also known as Fat Tuesday) is February 21.
Read about these must-try Mardi Gras dishes below, then be sure to sample all of them while you celebrate with us. Laissez les bon temps rouler, y'all! 
KING CAKE
At the top of our must-try festive food is, of course, king cake. This cinnamon roll-esque cake is typically coated with icing in classic Mardi Gras colors – yellow, purple and green – and is sometimes filled with cream cheese, fruity flavors or a pecan praline spread. Hidden inside the most traditional versions of these cakes is a miniature plastic baby known as the "king cake baby." It is said to bring a year of good luck to whoever gets the piece with it hidden inside. Rouses Market, located in Orange Beach, is known to offer a wide variety of king cakes during the Mardi Gras season. You can even order online! 
MOON PIES
Tossed from floats and available in huge-quantity boxes, moon pies are a tremendously popular take-home item from a parade. Made up of two round graham crackers with a melted marshmallow between, and coated with your choice of banana, peanut butter or chocolate icing, these mini treats are the perfect handheld snack at any Mardi Gras gathering. Try popping them in the microwave for a warm delight!
CRAWFISH BOIL
When you think of coastal Southern food, crawfish likely comes to mind. A classic crawfish boil is a Mardi Gras tradition. The "crawdaddy" has crawled its way around the holiday for years and is even depicted on flags, beads and shirts. Try some for yourself, but let a true Gulf Coast-er teach you how to eat them! Get you "mud bugs" fix at Rouses, Tacky Jack's, GTs and Flora-Bama Ole River Grill.
SHRIMP AND GRITS
Life is better with a spoonful of hot cheesy grits with scrumptious shrimp on top! While this delectable dish is popular during Mardi Gras season, you don't need to wait for the winter holiday to enjoy this savory dish - you can enjoy it throughout the year at many of our seafood restaurants. Colbalt, Fisher's at Orange Beach Marina and Ginny Lane Bar and Grill at the Wharf are a few great restaurants to give this savory meal a try. 
RED BEANS AND RICE
Red beans and rice is another classic meal of the South. Warm, buttery rice is topped with red beans, sausage and the chef's own secret blend of spices. Try it at several restaurants and see which one is your favorite! Available year-round, a big pot of red beans and rice is sure to add a little extra flavor to any Mardi Gras celebration.