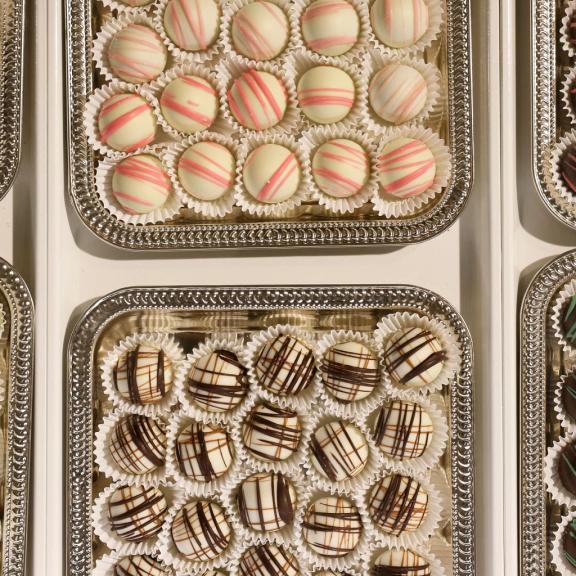 Sweet Treats
In Gulf Shores & Orange Beach
April 4, 2023
When you just can't satisfy your sweet tooth, it's time to visit Gulf Shores and Orange Beach. Here you'll find all the right combinations of sugary, creamy, crunchy, and decadent treats. Come for the beach and stay for dessert as we take you on a tour of some of the beach's most iconic sweet treats - and some new ones, too!
2. BuzzCatz Coffee & Sweets
A trip to BuzzCatz Coffee &Sweets will definitely bring out the (sophisticated) kid in you. Relive the days of staring into the glass dessert case as a kid and picking out the cinnamon roll with the most icing. BuzzCatz has a pastry chef who bakes up made-from-scratch treats every day. From homemade pop tarts to flaky pastries, you'll find a sweet treat for an afternoon sugar rush. Don't forget to grab a fresh cup of coffee while here to complement your sugary snack.
4. Pete's Ice Cream & Donuts
Can't decide between ice cream and donuts? At Pete's Ice Cream & Donuts, you can get the best of both worlds! Pete's makes its ice cream with fresh fruits and natural ingredients and offers different flavors almost daily. After you've grabbed your scoop, watch as the donut masters hand roll and cut the donuts to perfection. It's the ideal combo!
6. Kayden's Candy Factory
If you're out shopping or playing at The Wharf and are craving something sweet, venture to Kayden's Candy Factory. This sweet spot has just about everything you could want, from sundaes and donuts to caramel apples, waffles, and crepes. Need a treat to go? Grab chocolate-covered pretzels or a bag of fudge. No matter what you're in the mood for, you'll find it at Kayden's.
8. Chocolate Corner
Calling all chocolate lovers! The Chocolate Corner in Gulf Shores is your one-stop shop for all things chocolate. Savor a creamy turtle or gourmet truffle, or indulge in homemade fudge or chocolate-covered strawberries. The shop's specialty shaped chocolates are the perfect souvenir to bring a little piece of the beach home with you, but you may have a hard time eating them because they're so pretty!
10. Yumm Twister Ice Cream
If there's one thing better than creamy, authentic gelato, it's gelato in a one-of-a-kind handcrafted cone. Yumm Twister Ice Cream is a family-owned and -operated ice cream shop offering soft-serve gelato in freshly baked, specialty cones. Choose from several ice cream flavors, then add your favorite toppings or opt for one of the shop's signature cones. They also have milkshakes, so you can take your sweet treat to go!