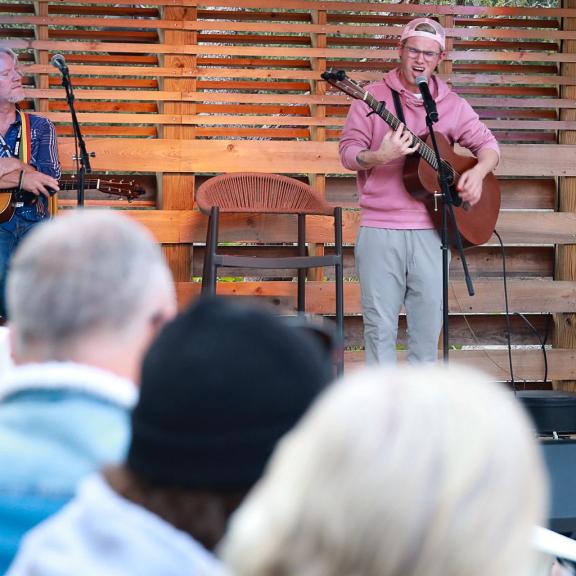 Live Music Spots
In Gulf Shores & Orange Beach
May 9, 2023
Alabama's music scene is filled with talented bands, singers, and songwriters who come from near and far to entertain those looking for fantastic music by the beach. You'll find it all at these Gulf Shores and Orange Beach restaurants and bars, from high-energy cover bands to acoustic solo artists.
2. The Hangout
Unsurprisingly, The Hangout in Gulf Shores is a great place to catch live music, as it's home to the annual Hangout Music Festival. Local bands and singers also perform on the outdoor stage at The Hangout restaurant throughout the year, providing guests with great music to accompany their delicious meals. 
4. Lucy Buffett's LuLu's
Owned by Lucy Buffett (sister to Jimmy Buffett), LuLu's is known far and wide for its nightly lineup of musical entertainment in addition to its fantastic food. Jimmy has even been known to pop in and perform an impromptu concert now and then. Gue
6. Tacky Jacks
Not only can you pull up a chair to listen to great local and regional artists at Tacky Jacks, but you can also take the stage yourself! When the karaoke bug bites, scratch the itch at Tacky Jacks in Gulf Shores, Orange Beach, or Fort Morgan. It's also customary to leave your mark via a colorful piece of duct tape. Ask your server for some tape and a Sharpie, so everyone will know you've been there!
8. Sandshaker
Whether you want to sit back and listen to the tunes or sing a few ballads yourself, Sandshaker is the place to be while at The Wharf. This locals' favorite bar has live music on Wednesdays, Fridays, and Saturdays and hosts karaoke every Tuesday and Thursday. You can even show off your own musical abilities on Mondays during open mic night.
10. Luna's
With over 30 craft beers on tap and a grassy courtyard, Luna's Eat & Drink in Orange Beach is the ultimate spot for a brew and live music. During the warmer months, local artists perform on the restaurant's relaxing back patio and offer dinner guests a side of tunes with their soulful meals.