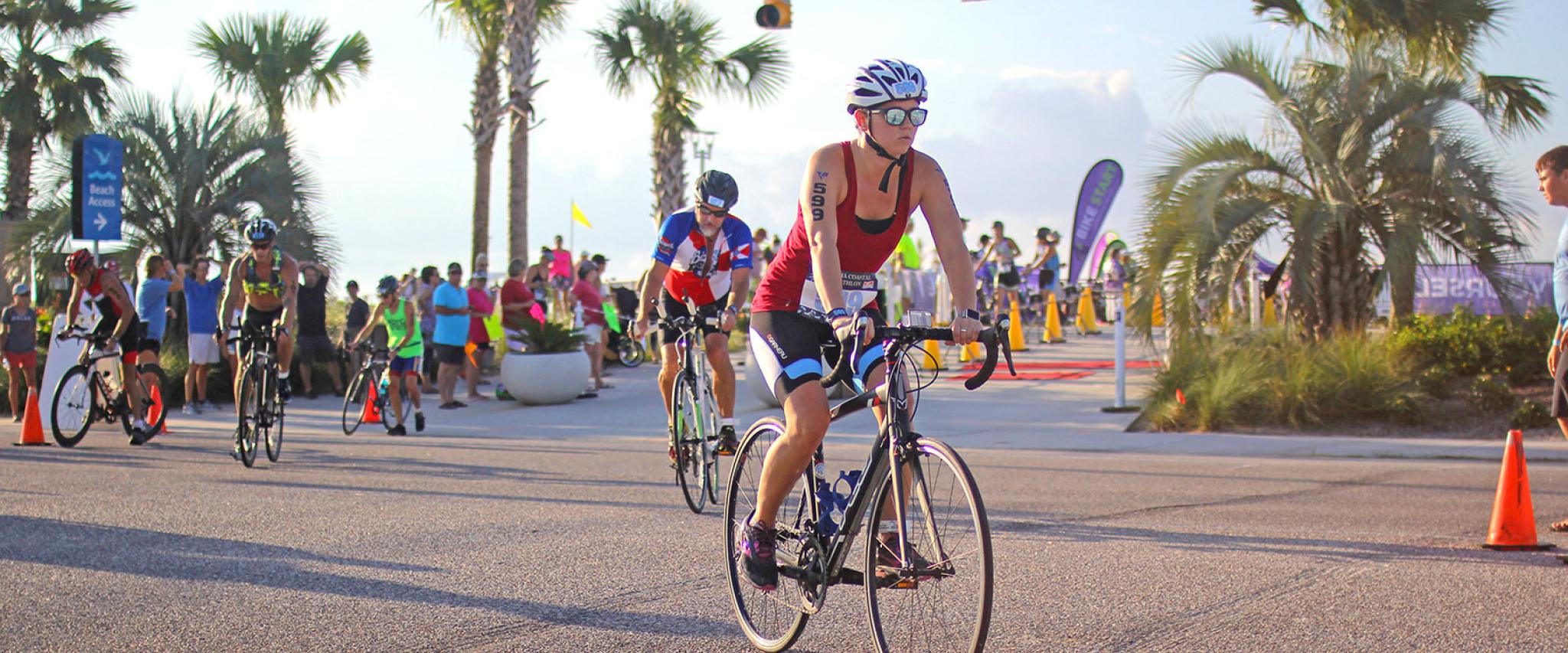 How Alabama's Beaches are an All-Season Sports Destination
Winter, Spring, Summer, or Fall…the perfect time to play some ball!
September 26, 2018
Or tennis, golf, or even a run a marathon. Mild temperatures year-round make Gulf Shores and Orange Beach a "hot spot" for all kinds of sporting events throughout the year. Many enjoy activities like golf and tennis year-round, but every season brings different opportunities for many athletes. 
Fall
Fall is upon us which means you'll find runners from all over gearing up for popular races and triathlons on the beach over the next few months. Fall also brings quite a few tennis tournaments including the Alabama State Tri-Level Championships. One of the most exciting fall events is the 2018 SEC Women's Soccer Championship. This event has been held at the Orange Beach Sportsplex along with other NCAA Men's and Women's Soccer Tournaments since 2003. Late Fall temperatures average in the 60s to low 70s making this a great time of year for many outdoor events including softball and baseball, golf, track and running, and soccer. There is even a collegiate fall beach volleyball tournament in October, right on the beach!
Winter
Winter isn't so scary with temperatures averaging in the mid to high 50s. It also helps to have great indoor venues. January brings the Big Beach Marathon and February is full of collegiate softball action including the 2019 NCAA DII Gulf Shores Softball Invitation at the Gulf Shores Sportsplex. If outdoors isn't an option for your event, check out the Orange Beach Event Center at The Wharf, which boasts more than 18,000 square feet of flexible space, perfect for events like karate and powerlifting, gymnastics, or cheerleading.
Spring
When spring has sprung you'll find the high school track and field championships at the Gulf Shores Sportsplex along with a multitude of other sporting events like the NCAA Collegiate Beach Volleyball Championships, softball and baseball tournaments, and spring soccer. The temperatures are warmer, but the competition is hot! Sometimes spring break isn't about relaxing, it's about competing!
Summer
On most summer weekends, you'll find beach volleyball nets lining the main beach as junior beach players from all over the country come and compete on the beautiful beaches. Gulf Shores and Orange Beach is also home to the USSSA Baseball World Series, where hundreds of players and their families travel to compete with some of the best teams in the country. Summer sporting events at the beach allow families to travel for tournaments and their summer vacations, making the beach an ultimate summer sporting destination.
It's easy to see why Gulf Shores and Orange Beach host so many sporting events throughout the year. With mild temperatures, state-of-the-art facilities, and accommodations to fit any size group and budget, we are your all-season sports destination.