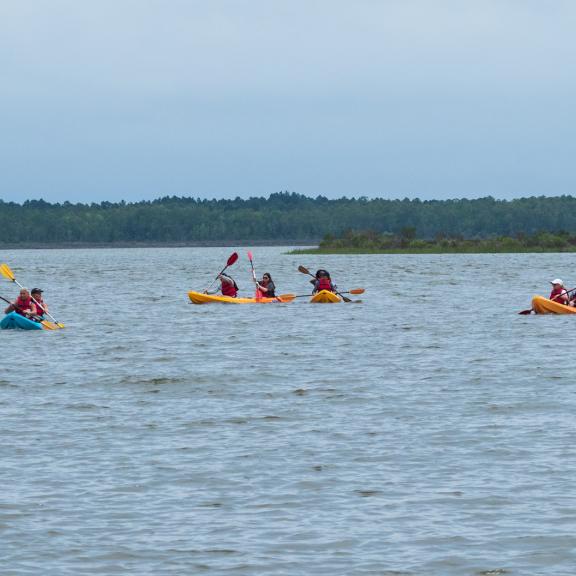 Keep Calm and Paddle On with Wild Native Tours
July 27, 2020
Kayaking has been known to significantly decrease stress levels.
If you're in need of an activity that will relax you by immersing you in nature, look no further than the Dolphin and Wildlife Kayak Experience with Wild Native Tours. This active adventure takes paddlers throughout the waterways of Gulf Shores with an experienced and knowledgeable guide that will share all of the most interesting facts about our coastal wildlife.
One of the highlights of this excursion is having the opportunity to view bottlenose dolphins in their natural habitat from an intimate yet non-threatening distance and vantage point. You will likely also spot other local wildlife including turtles, manatees and a variety of local and migratory bird species. The experience also gives guests an up-close look at the vibrant commercial industries in the destination. From shrimp and crab boats to tugboats and barges, you will be able to take a deep dive into learning about Coastal Alabama's contribution to businesses and organizations all over the world.
Whether you're an avid eco-tourist or someone looking for a stress-free adventure, the three-hour Dolphin and Wildlife Kayak Experience is definitely something to add to your Gulf Shores and Orange Beach vacation itinerary. 
After a wild (native) day on the water, there is nothing better than a delicious meal! Book a Chef's Table dinner with Orange Beach Concierge to fuel up for your next unique vacation experience on the Alabama Gulf Coast.