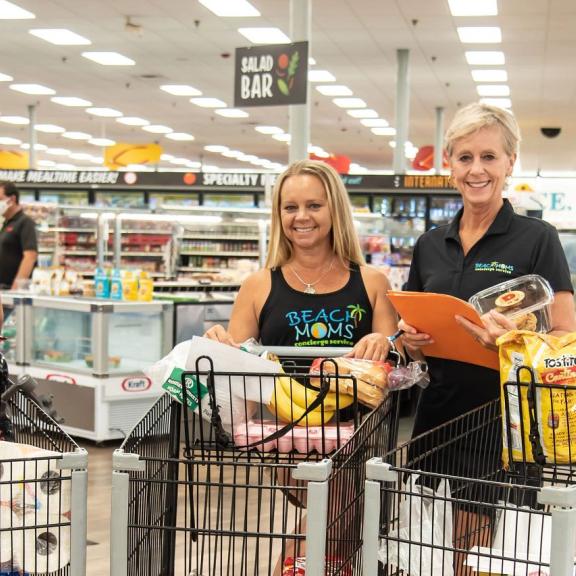 Grocery Delivery and Pick-Up in Gulf Shores and Orange Beach
Save time during your Alabama beach vacation by ordering your groceries in advance.
June 10, 2021
Let's face it…grocery shopping isn't something we all love to do in our 'normal' daily life, much less while we're on vacation. Fortunately, several stores in Gulf Shores and Orange Beach offer both grocery delivery and pick-up.
Grocery Delivery in Gulf Shores and Orange Beach
After checking into your accommodations, go online and order your groceries to be delivered, whether through the store itself or third-party vendors such as Instacart and Shipt. We recommend ordering your groceries after check-in just in case you encounter a delay at check-in. You can also order your groceries for delivery through a concierge service. We have a handful of locally-owned concierge and rental service companies who will do your shopping for you so your family can get started with your fun as soon as you arrive at the beach.
Grocery Pick-Up in Gulf Shores and Orange Beach
Another fantastic, time-saving option is to order your groceries in advance to be picked up at the store. Grocery pick-up allows you to order everything you need while skipping long lines inside the store. We also recommend that you schedule your pick-up time for an hour or two after check-in should you experience a delay.
Ready-Made Meal Options
If you'd like to skip cooking altogether, our destination is home to several businesses and stores that offer ready-made meals. Publix, Rouses, and Walmart all offer pre-cooked options. You can also stop into Sarah's Homemade, a locally-owned business, for homemade soup, sandwiches, and salads to-go. They also have family-size orders available.
Grocery pick-up and delivery are great ways to save time and make vacationing in Gulf Shores and Orange Beach just a little bit easier.