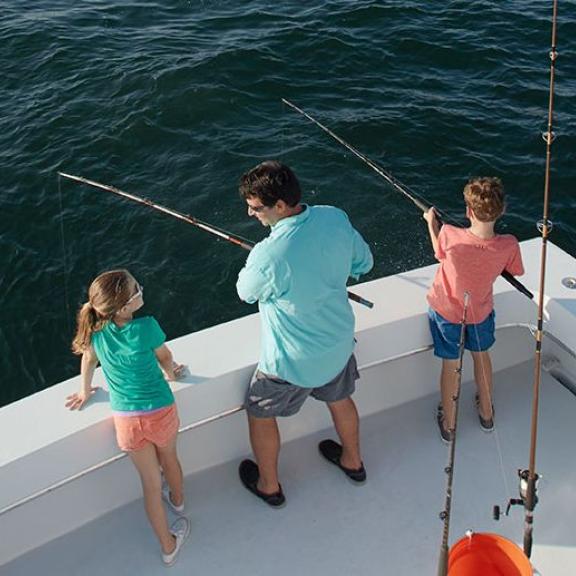 Now is the Time to Book a Fall Tuna Trip
With the prospects of some of our fall activities being limited this year, a great option is available in the beautiful waters of the Gulf of Mexico.
September 30, 2020
The crew may also deploy several kite rigs that will dangle live bait on the surface to see if a yellowfin will slam it on top.
While most yellowfins range from 30 to 60 pounds, occasionally a big fish will be hooked. A 100-plus-pounder will give you a workout that could leave you with arm muscles so tired it becomes difficult to make a fist. I can promise you'll have to take a break to recover after battling a big yellowfin.
Waking up in the middle of the Gulf of Mexico as the sun starts to appear on the horizon is something you will never forget. As one charter captain told me, "An overnight trip in the Gulf gives you an experience you will never forget, from a brilliant moon to a sunrise that rivals anything I've ever seen. We want people to appreciate the experience and realize it's not just about catching fish."
Charter boats provide all the tackle, rigged for the type of fishing you will do, which could mean everything from spinning tackle to 9/0 reels with heavy braid. Information about what anglers need to bring to have an enjoyable and productive trip offshore will be provided by the charters.
During the overnight trip, the captain will likely provide a variety of fishing experiences other than tuna fishing. The captain may do a little high-speed trolling that could produce a wahoo, king mackerel or dolphin fish (dorado or mahi-mahi). You will likely get in a little bottom fishing as well. Greater amberjack season is open until Oct. 31. Although red snapper season is closed, you may catch grouper, scamp, tilefish or vermilion snapper.
Visit our fishing page for more information on the variety of charters available for tuna trips. It could lead to the fishing trip of a lifetime.