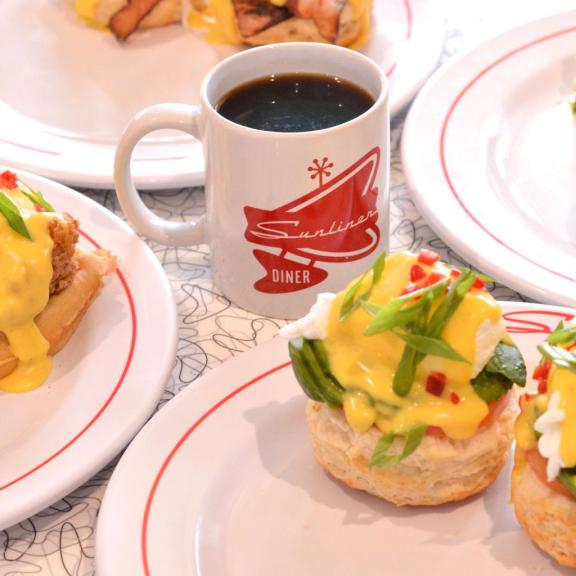 Beach Breakfasts
Gulf Shores & Orange Beach
Fuel up for a fun day with one of these tasty breakfast options!
April 3, 2023
Breakfast is the most important part of the day, especially if your day is filled with beach activities! Start your day with a tasty meal and keep your energy up for all the fun in the sun. If you're looking for a delicious beach breakfast, we have a few savory and sweet suggestions.
3. Bushwacker Pancakes
Bushwackers are the area's signature drink, but OSO has put its own spin on this coastal classic. This sweet treat includes three espresso chocolate pancakes with Kahlúa chocolate, rum caramel, and coconut cream. Pair this with a mimosa or a freshly squeezed cup of juice, and you have the ultimate beach brunch.
4. Shrimp & Grits
You can't visit the Gulf Coast without indulging yourself with a bowl of shrimp and grits. Another Broken Egg Café serves this Southern classic with Gulf shrimp, andouille, red peppers, and onions over creamy cheese grits. If you're in the mood for other seafood options, try their crab cake Benedict or Mardi Gras omelet.
5. Shrimp Deviled Eggs
Rise and dine at Brick & Spoon in Orange Beach for breakfast and lunch menus filled with both sweet and savory good eats. Travel & Leisure named Brick & Spoon one of the top 10 breakfast spots in the U.S. Find out why when you try the Deviled on the Bayou, a tasso deviled egg topped with fresh fried shrimp and sriracha aioli. Build your own bloody mary to complement your breakfast for the perfect beach day starter!
9. Beignets
Did you wake up craving something sweet? Order up a dozen piping-hot beignets at Café Beignet in Gulf Shores or Orange Beach, or grab beignets and coffee at Mo'Bay Beignet. These delectable treats are airy, fluffy, and covered in powdered sugar. If you really want to satisfy your sweet tooth, try the specialty beignets filled with vanilla pudding and topped with chocolate syrup at Café Beignet or order a side of signature syrup at Mo'Bay.
10. Smoothies
Treat yourself to a breakfast that tastes good and makes you feel good. Planet Smoothie serves various nutrient-packed smoothies filled with healthy goodness. They offer superfood, protein, energy, and meal replacement smoothies as well as tons of delicious add-ins. Grab one of their yummy smoothies and take your breakfast to the beach.
11. Meat & Eggs
If you need some protein with your breakfast, head to Gulf Shores Diner. This spot serves scrumptious breakfast offerings all day, including its rib-eye steak, pork chop, and country-fried steak, all served with eggs, hashbrowns, and toast. What more could you ask for in a hearty and filling meal?
Be sure to check out some of the other great restaurants in Gulf Shores and Orange Beach and start planning your vacation today!